Watermelon is a summer staple where we come from. It most likely is where you're from too. Our whole family loves watermelon, that includes all of our dogs, goats, and our chickens. So, in case you were wondering can chickens eat watermelon we can confirm that they can.
But, let's talk a little bit about it how much they can have, how often, and is it just a sweet treat, or can it be nutritious as well as delicious?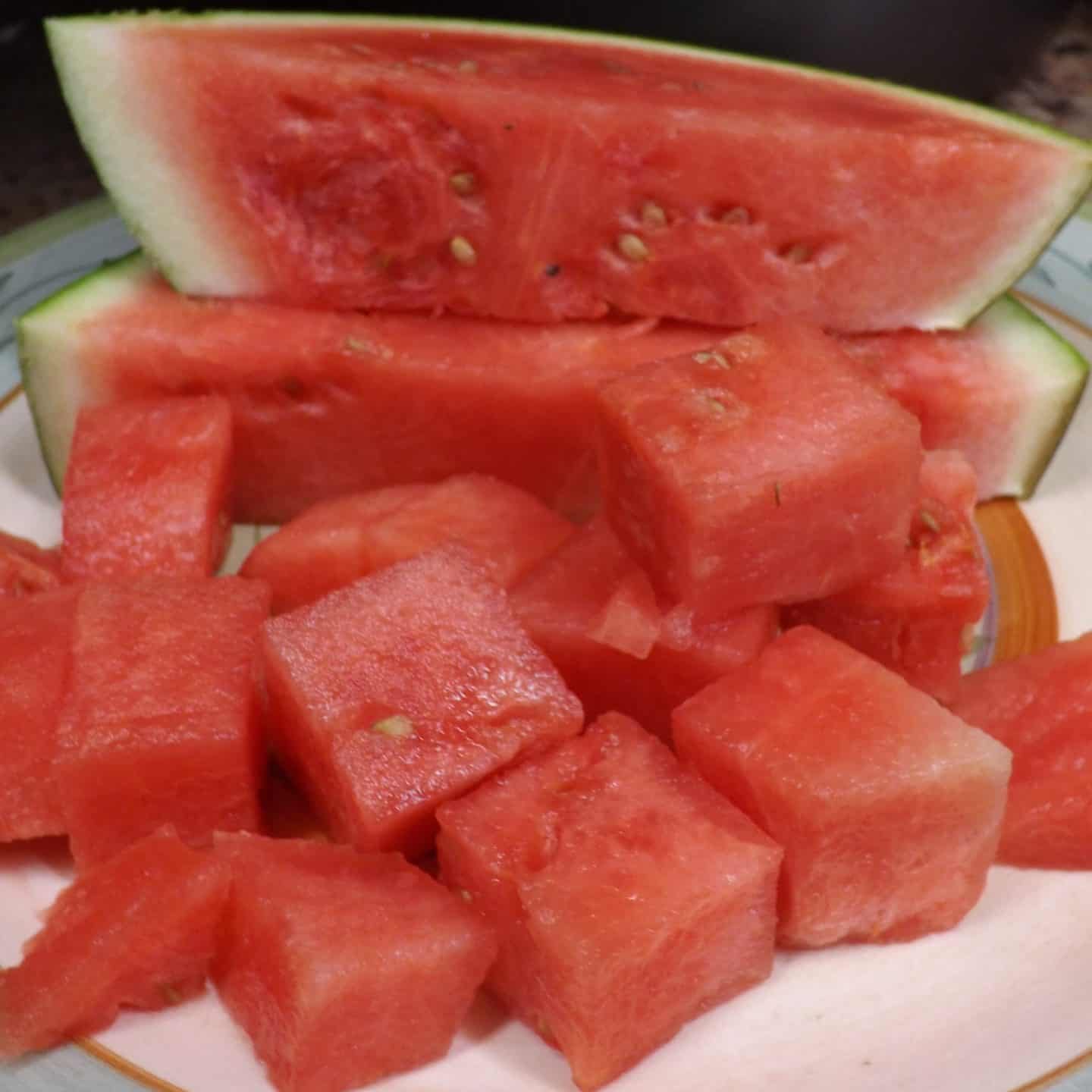 [ez-toc]
Can Chickens Eat Watermelon?
Yes, chickens can eat watermelon. It is not only a delicious, summertime snack but it is also, in moderation, a healthy food for them to eat, as well.
Watermelon is even okay for chicks to eat, in small amounts and excluding any of the tougher parts like rind, vines, or leaves.
What parts of the watermelon can chickens eat?
We already discussed that chicks can eat the pink flesh of watermelon but not the other parts. That triggers the question can chickens eat the rest of the watermelon?
Can chickens eat watermelon rind?
Yes, the rind is perfectly healthy for chickens to eat. In fact, it is chock of many of the same nutrients found in the flesh. You may be able to tell by it's density, that this piece of the watermelon has the most plant fiber.
Now, chickens will not eat the rind with the same fervour they will the sweet pink fruit. It is less flavorful and more difficult for them to peck apart with their beaks. So, don't be surprised if you find the rinds still intact after giving it to your chickens.
Need some help keeping your chickens health and care taken care of? Check out the Organized Chicken Keeper for an easy to follow system.
Can chickens eat the green skin of a watermelon?
Normally, we would include the green outer skin to be a part of the rind. However, chickens will eat the rind, they will almost never eat the outside green part.
Can chickens eat watermelon seeds?
Watermelon seeds are one of our chickens' favorite snacks. In fact, while watermelon seeds are not typically something that other animals on your farm may be able to eat, chickens have no problem digesting the seeds.
Can chickens eat watermelon greens, leaves, and vines?
By now, you may be able to guess that just like when chickens eat zucchini, they can also eat the entire watermelon plant. The greens of the watermelon are, again, something chickens love and will dig right in when given the chance. Just make sure to keep them away from the vine while it is growing. They won't wait until the watermelon grows and then everyone will be without their favorite pink fruit.
Can I feed rotten watermelon to my chickens?
What? No, you absolutely cannot feed rotten anything to your chickens. A good rule to follow is that if you wouldn't eat your own food in the same state don't feed it to your chickens, or any animals, in that state. That includes moldy food too.
What are the health benefits of watermelon?
Watermelon is actually packed full of healthy, and necessary, vitamins and minerals. Obviously, it is full of water and, therefore super hydrating, especially during the hotter parts of the year. Watermelon is also low in sodium, again, helping your feathered friends stay hydrated.
However, make sure to not overfeed them. Too much watermelon can lead to runny poop which, in turn, can lead to dehydration.
Nutritional Analysis
Here are a few of the vitamins and nutrients and how they impact your chickens' health.
Vitamin A: eye, skin, respiratory, and digestive health
Antioxidants: (Beta Carotene, Lycopene) repair damage from free radicals, fight off/prevent future damage, protect from oxidative damage, anti-inflammatory, lower blood pressure, improve heart health in high enough doses, development and health of tissue, skin, and feathers
Vitamin B6: healthy blood vessels, eye/vision health, nervous system , immune system
Vitamin C: joint, cellular, and immune health; collagen synthesis
Fiber: only small amounts or they can become constipated, get a blockage, etc; energy, growth, and digestive health, reduce cholesterol, controls blood sugar, digestive health
Folate (B Vitamin): folate deficiency; helps blood formation; healthy feathers & size
Vitamin K: blood clotting, bone metabolism
Magnesium: bone strength and development, cellular metabolism, heart health, muscle function
Manganese: bone development, immune system, breaks down carbs, cholesterol, and amino acids; controls blood sugar
Phosphorus: bone formation
Potassium: temperature control; hydration & electrolyte regulation, metabolism; heart health/heart disease preventative
Riboflavin: immune system
The table below, courtesy of the USDA FoodData Center, is the nutritional value of 1 wedge or about ⅙ of the watermelon.
| Name | Amount | Unit |
| --- | --- | --- |
| Water | 261 | g |
| Energy | 85.8 | kcal |
| Protein | 1.74 | g |
| Fat | .429 | g |
| Carbohydrate, by difference | 21.6 | g |
| Fiber, total dietary | 1.14 | g |
| Sugars, total including NLEA | 17.7 | g |
| Calcium, Ca | 20 | mg |
| Magnesium, Mg | 28.6 | mg |
| Potassium, K | 320 | mg |
| Sodium, Na | 2.86 | mg |
| Copper, Cu | .12 | mg |
| Manganese, Mn | 0.109 | mg |
| Selenium, Se | 1.14 | µg |
| Vitamin C, total ascorbic acid | 23.2 | mg |
| Vitamin B-6 | .129 | mg |
| Folate, total | 8.58 | µg |
| Carotene, beta | 867 | µg |
| Vitamin A, IU | 1630 | IU |
| Vitamin K (phylloquinone) | .286 | µg |
How to make feed watermelon to chickens
Feeding your chickens watermelon is pretty much as simple as wash, cut, and serve. We do have a some recommendations, though, on how you should go through this process.
Wash the outside of the watermelon and any greens that you want to give to your chickens.

This will remove any excess pesticide residue that may still be present. You can always grow your own or purchase from a pesticide free source, too.

Cut the watermelon into small pieces.

Smaller pieces are easier for your chickens to eat and are less likely to become choking hazards.

Top their feed with it or spread it out for your whole flock.

Watermelon is a high value treat and chickens will fight over it if there is not enough. Make sure to provide enough and spread it far enough out that everyone will get some and they won't be right on top of each other.
Some treat ideas
If you want to give your chickens something really special, you can always make their snack with a little bit of extra care. Chop up all of the watermelon; that includes the pink fruit, rind, leaves, and vines. Mix those with some other chopped veggies from the garden. For example, chickens can eat grapes, chickens eat cherries, chickens can eat blueberries, chickens eat blackberries, or chickens can eat radishes.
If it's hot outside, and chickens can eat cantaloupe too, consider freezing watermelon and cantaloupe cubes. The cold fruit will cool them down and last a while longer since it will be frozen.
Take this to another level and toss the whole, chopped up, of course, watermelon into a blender or food processor, add in some ice, and fresh mint (or freeze mint cubes). Puree everything together and pour it into a feed bowl for your chickens outside. They will love their Mint Watermelon Smoothie!
Final Word
Watermelon is a treat loved by both humans and animals alike. It makes a great snack for your chickens and can greatly improve their health!
If you need more help with taking care of your chickens, check out The Organized Chicken Keeper for a complete system for managing their health through keeping their supplies stocked and coop clean.