This site contains affiliate links. We may earn a commission if you purchase from one of these links. Learn more Here.
The other day I looked out my kitchen window and saw goats….outside of their fence just strolling around. Yikes! It turns out that bored goats are sneaky goats. Goat toys can be a fantastic way to keep your herd busy and entertained during the day.
Goats can be very inquisitive and can get into trouble climbing fences and doing other naughty things especially if they get bored. So, just as you prepare for your goats, make sure you choose the the right goats.
(If you don't have goat toys and all of your other goat supplies gathered yet, hop on over to our Getting Started with Goats eCourse and get yourself prepared!)

Once you have your everyday goat preparations ready, you may also want to think about what toys for goats you should get.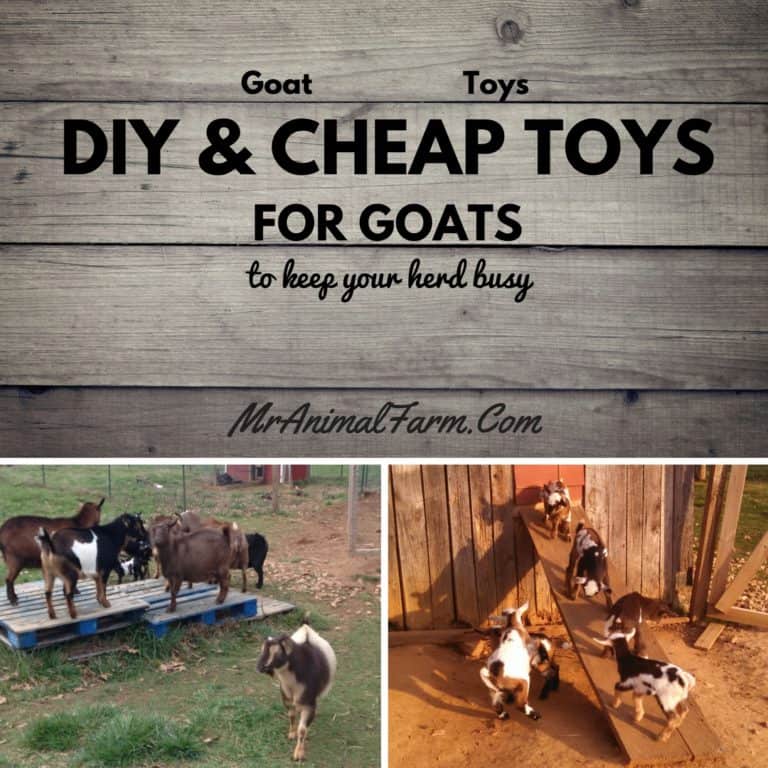 It is probably no secret that goats love to climb. So, really goat toy ideas that enable them to climb will make a wonderful goat toy.
Since we obviously had some goats in need of a little entertainment quick like, we decided to slap together a few goat toys based on what we had on hand. We are now the proud owners of a few homemade goat toys; a goat play bench and a goat pallet tower.
Here are a few ideas for DIY & cheap toys for goats:
Used playhouses make great goat toys
You can get them new (but they are rather expensive). To get a cheap playset, check out your local Craigslist or local yard sales.
These plastic or wood children's playsets can commonly be found relatively cheap if you get them used. Ones with ladders and slides are perfect goat toys.
Pallets make for endless goat toy ideas
You can regularly find pallets for free at most any bigger store. For example, our local farm store gives their used pallets away for free. These work great for cheap toys for goats.
You can leave the pallets in tact and stack them at various heights. Put the stacks together in one pile so that the goats can climb from stack to stack.
You can also add "bridges" by putting wood boards attaching stacks so that they can walk from stack to stack.
Tables, benches; & other platforms: Goat toys for climbing
Another cheap goat toy idea is to take any scrap wood you have around from other building projects (such as chick brooders) and build tables, benches or other platforms for your goats.
We built a few simple benches to use as toys for our goats and they absolutely love them. They jump up on them and the babies love to tap dance around on the top of them.
Wooden Cable Spools: Goat toy training course!
You can sometimes find these at hardware stores. They will often times give them away for free if they are empty of whatever product was on them. Electricians may be another place to source them.
You can simply stack the wooden spools together for the goats to climb on. Cascading different size spools make great goat toy obstacle courses. You can even create bridges between spools for extra fun goat toys!
Large Rocks: Goat toy?
If you have any larger rocks on your property, you can make a rock playground. Again, anything goats can climb on make great goat toys.
The extra added bonus of using rocks is that the texture of the rocks will help keep the goats hooves worn down and you won't have to trim their hooves as often.
Since goats are great climbers and jumpers, you will want to make sure that you place any of the goat toys in the middle of their fenced in area so that they they don't climb up on the toys and then jump over the fence.
Check out Baby Bauer enjoying one of the goat toys our herd uses – a wooden bench.
The babies love to jump around on the benches! What a wonderful DIY goat toy! (If you love cute animal videos like this, don't forget to subscribe to our channel!)
Do you have any toys for your goats? What goat toys does your herd like the best?
For More Goats, Check These Out!