This site contains affiliate links. We may earn a commission if you purchase from one of these links. Learn more Here.
If you are getting ready to bring your first goat home, you definitely need to know what goat supplies you will need!
When we got our first goats, we spent A LOT of time researching exactly what they would need once we got them home.  We knew we needed to figure out how to take care of them and also what the most essential goat supplies to have are.
Never having owned goats before it was hard to know exactly how to prepare for bringing Nigerian Dwarf goats (or any type of goat) home.
We did a lot of reading and research about how to prepare for goats.  After that, we made the difficult fencing decisions.
If you need help on that you can see what we did for goat fencing options.
And if you're having trouble picking your goats, here's how to choose your first goats.  Still not sure where to start?  Check out the Raising Goats eCourse!
We needed to know what goat supplies to get.  We never did find a simple list of things to have and do to prepare for goats, so we thought we would provide one here to help others out.
Top 7 goat supplies you need for your herd:
1). Hay is one of the must have goat supplies
If you have anything other than does in milk you can feed good quality grass hay (such as orchard grass).  Does in milk should have access to alfalfa hay if you want to maximize their milk production.
If you can't find alfalfa you might have luck finding a Chaffhaye dealer near you.  You should always choose good quality hay and feed it free choice (always available).
In addition to hay, you'll obviously need a hay feeder to put they hay in.
2). Grain/milkstand treats
Goats can get sick if over fed with grain. You can give varying amounts and types.

The breeder we got our goats from feeds a mix of BOSS (black oil sunflower seeds), alfalfa pellets and calf manna or goat feed everyone gets a nighttime treat and milking does also get some on the milk stand.
All three of these get combined into a handy dandy feed bucket such as this.
If you just have wethers or girls that are not pregnant or milking then grain or milkstand treats are not one of the necessary goat supplies.
3). Fruits and veggies can be fed as special treats
One of our girls, Chloe, especially loves bananas, so we bribe her with a few pieces every time we go outside with her.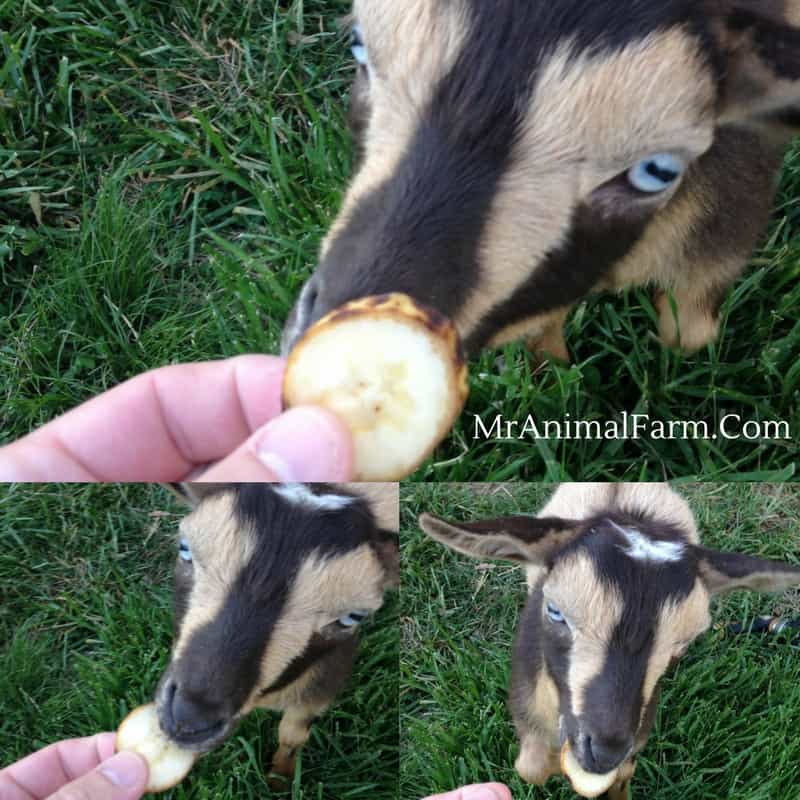 Bananas are not the only treat they love, they enjoy lots of different fruits and veggies like squash, apples and carrot pieces.
4)  Fresh, clean, unfrozen water
We used these buckets and in the winter we break out these heated buckets.  to help keep waters from freezing.  Make sure not to leave them with dirty water.
Even a stray leaf or goat pellet (poop) in their water will make them refuse to drink it.  (Goats can be pretty picky).  So, be sure to keep their water clean for them.
5)  Goats also need free choice baking soda as well as goat minerals
It is very important to get minerals specifically for goats, not minerals for goats and sheep.  This is because goats need extra copper in their diet.  We use Manna Pro Loose Goat Minerals.
You can feed the baking soda and minerals in a simple two compartment feeder placed on the stall wall.

It is important to learn how to trim your goats hooves.  Without regular hoof trimming they can get really sore feet and other issues.
Basic milking supplies are a milk stand, stainless steel milk bucket, and stainless steel strainer. Make sure you have learned how to milk a goat  before you get started!
You'll also want to be aware of the goat medical supplies that are useful to have on hand just in case you have any sickness pop up with your new goats.  And of course, you will need shelter and fencing for your goats as well!
That's it!   Now you are prepared for your wonderful new goats!  What goat supplies do you think are must haves?
For More on Goats: