Sometimes you find a killer deal on Bok Choy and you have to miss out because there is no way you or your family could eat it all before it went bad. Fortunately, not only can you freeze Bok Choy, but you can do it pretty easily.
Keep on reading to learn how you can freeze it and not have your food go to waste!
[ez-toc]
Can you freeze bok choy?
Yes, you can freeze bok choy via flash freezing, blanching or a combination of techniques. Once frozen, Bok Choy will stay good for up to 12 months but is best when used within the first 4 to 6 months. There is no need to thaw when you're ready to use it
It can be added to any recipe still frozen and it will thaw almost immediately.
Bok choy is a type of cabbage. And just like the cabbage you may be used to seeing at the grocery store, Bok choy can also be frozen in the same ways.
Freezing Stats
Blanched
yes; 3 minutes
Prep Style
chopped
full leaves
Time To Freeze
2 to 4 hours
Time to Thaw
N/A
Uses
recipes that require Bok choy
soups
stews
Freezer Life
up to 12 months
Why should you freeze it?
Freezing food is a great way to preserve it. This can help you have access to seasonal foods off season, or stock up during garden season or a sale.
Bok choy was cultivated and grown, primarily, in China. It is packed full of vitamins and nutrients and considered a super food. Unlike many fruits and vegetables where you usually have to separate the edible portion from a stem, stalk, or branch, you can eat all of the Bok choy plant. Both the leaves and stalk are both edible.
Because it's such a great source of nutrition and there is little to no waste when cooking with Bok choy freezing it so you always have it available is a great idea. Plus, when you freeze it, it will last a lot longer than if you buy it fresh and leave it in the fridge.
Need to get all your food preserved easily? Check out the Ultimate Guide To Freezing Food so that you can fill your freezer without in minimal time.
Frozen Vs Non-frozen
Freezer Life
Shelf Life/Fridge Life
4 to 6 months (peak freshness)
6 to 12 months (quality will degrade but is still good to cook with)
3 to 5 days
Supplies
How To Freeze Bok Choy
We mentioned above that you can flash freeze, blanch, or a combination of both methods to preserve Bok choy. We prefer to do them both and today we will show you how.
Step One
Start by cleaning your Bok choy. You can run it under cool water in your sink. We like to put down a colander so we can peel off the leaves and get everything rinsed thoroughly.
You will also want to gather the rest of your supplies now.
Step Two
Once your Bok choy is good and clean, take out your knife and cutting board and get ready to separate the leaves. The entire vegetable can be eaten so there is no need to cut and throw away stems.
You can either break off full leaves or you can chop the entire thing up into smaller bits. Both ways freeze the same. It comes down to a matter of preference for you.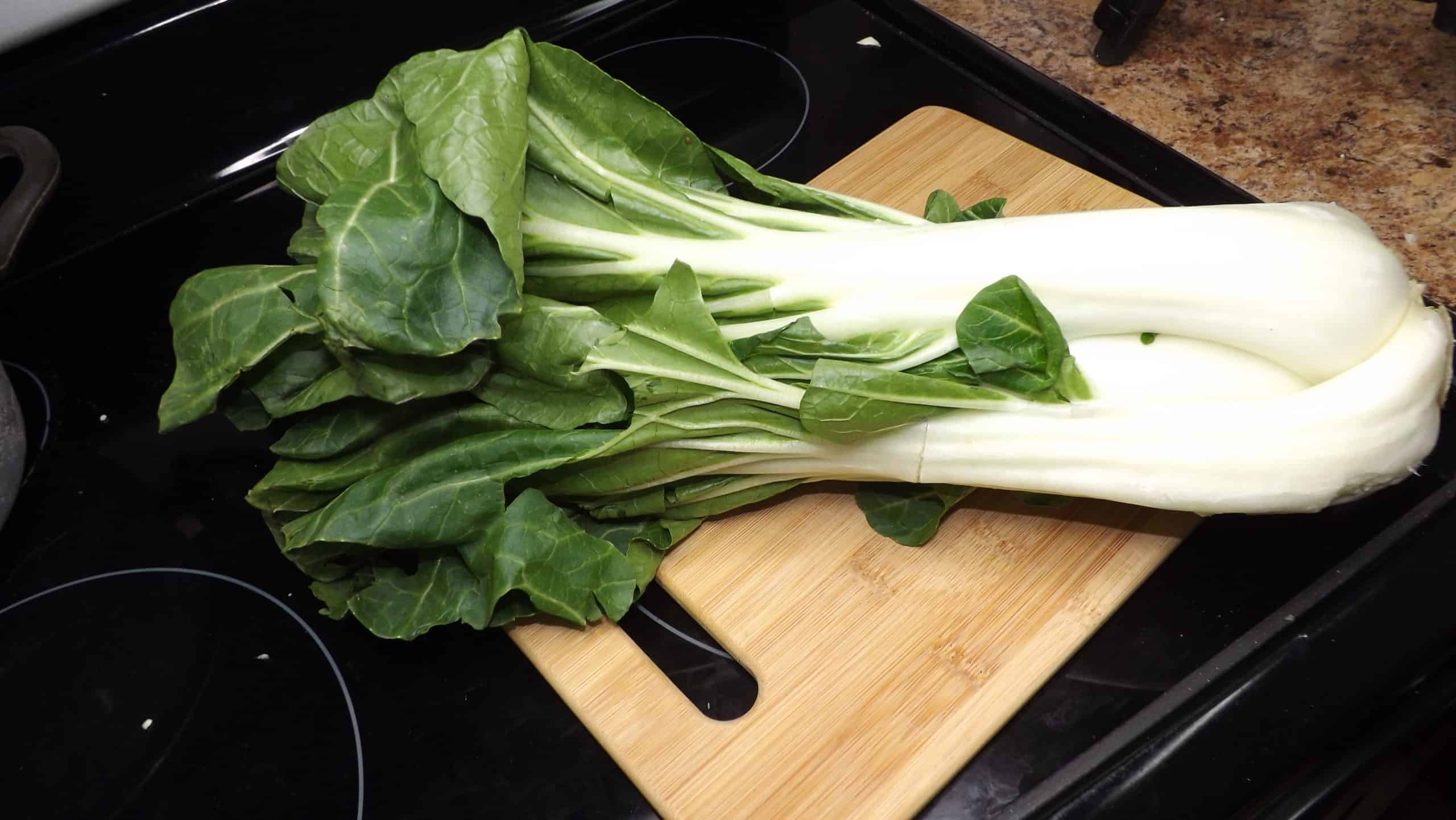 Step Three
Now it's time to blanch. Take a stock pot, fill it with water, and set it on your stovetop to boil. While you are waiting fill up a large mixing bowl with ice and water and grab a second colander or wash the one you used earlier.
Add all of your Bok choy to the colander, When your water is at a rolling boil, lower the colander of Bok choy into the water and set a timer for 3 minutes. Keep an eye on the pot, however. You will know your Bok choy is ready to come out once the leaves start to turn green.
When the timer goes off or the leaves change color, pull the colander out of the boiling water and place it in the bowl of ice water. The sudden ice bath will stop the cooking process right away.
Pull the Bok choy out of the water and pat dry with a paper towel; removing as much moisture as you can.
Do you have to blanch Bok choy before freezing?
You don't have to blanch Bok choy before freezing it but we strongly recommend you do. Most fruits and vegetables contain an enzyme that allows them to continue the aging process even if they have been frozen. That means that your frozen food can still go bad and become an icy, rotten mess.
When you boil the food for a short period of time, you are essentially partially cooking it which destroys that aging enzyme. Now you can freeze your food and not worry that it is going to spoil after you freeze it.
Step Four
Now we get to flash freezing. Flash freezing is when you pre-freeze your food in smaller segments before packaging them together for a deep freeze. Let's explain how to do this.
Take a cookie sheet and cover it in aluminum foil or parchment paper. Lay all of your Bok choy, cut or whole leaf, in a single, non-overlapping layer. Depending on the size of your cookie sheet, freeze, and the amount of Bok choy you are freezing, this may take a few cookie sheets or a couple of rounds.
Place the cookie sheets in the freezer and leave them for 2 to 4 hours (or overnight if you don't want to wait). While they are freezing, label your storage bags or containers with the contents, freeze date, and use by date. That way nothing gets lost and wasted.
Once they have frozen, take the cookie sheets out of the fridge, load the labeled bags up with Bok choy and put them back in the freezer where they will stay.
Frequently Asked Questions
Q1. How do you defrost it?
Just like cabbage, Bok choy does not need to be thawed before hand. It can be put right into the recipe for which you need it. However, if you would like to thaw it, you can simply run it under some cool water for a moment or so until it defrosts.
Q2. How long will it last?
Bok choy, when frozen using the methods listed above, can have a fresh freezer life of 4 to 6 months and will still be palatable for up to 12 months. Compare that to a non-frozen fridge life of 3 to 5 days.
If you need more help getting your foods frozen, check out the Ultimate Freezing Food Guide for a complete quick start reference so that you can have a well-stocked freezer.