Every once in a while we'll get a wild hair and decide that we want to bake. Anytime this happens, we end up with way too much bread. So instead of throwing it out, what do you do? They learn how to freeze bread.
So learning how to freeze bread is not just a few over bake in batches.It's also great if you happen to be in the grocery store and you see a bunch of Lowe's on bread on sale because they're about to go bad.
Go ahead and grab the whole cartload for 25 cents each because you can just freeze them when you get home.
Steps for how to freeze bread
Just so you know, this method works with white bread, wheat bread, banana bread, zucchini bread, pumpkin bread, any kind of bread you might have.
It's super easy to freeze your bread. We will show you exactly how in just three steps.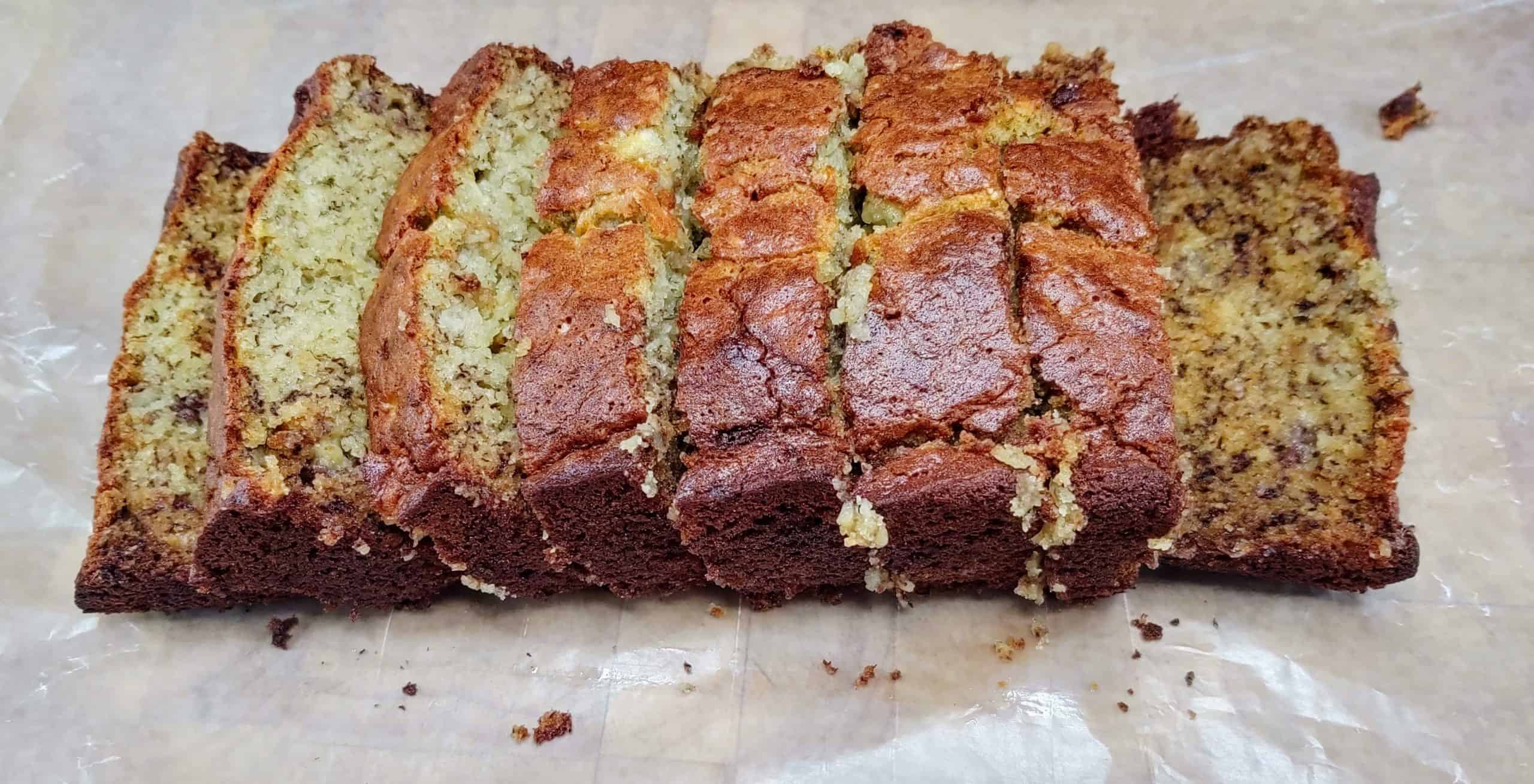 Step One
The first thing we do anytime we're going to freeze bread is slice it. We use a good, sharp bread knife and bread slicer.
Should I slice bread before freezing?
You don't have to slice bread before freezing, but we definitely recommend it. If you freeze a full loaf of bread, then when it comes time to thaw, you have to thaw the entire loaf.
If you slice it before hand, you can pull slices out as you need it.
Step Two
This next step really depends on how long you want to freeze your bread. If you are planning for a short-term freeze, say you're going to use it within the next month, you can just put a loaf or your slices in a gallon sized freezer bag and be done with it.
However, if you are wanting to freeze your bread for a longer time, you will want to take a little more preparation.
Take your slices or full loaf and wrapped them tightly in plastic wrap. You'll want to make sure that no air or moisture can get to your bread.
Next, you'll want to wrap your loaf again, this time using aluminum foil. The extra layer of wrapping will actually help keep your bread safer from any sort of moisture or air. This will keep it from becoming frostbit or stale too soon.
If you want even more protection, you can put everything into a gallon sized freezer bag after that.
Need to get all your food preserved easily? Check out the Ultimate Guide To Freezing Food so that you can fill your freezer without in minimal time.
Step Three
Step three is the easiest step of all. Take your wrapped bread and stick it in the freezer. That's it, you're done.
How do you thaw frozen bread?
Obviously if you have frozen your bread then you will want to know how do you unfreeze bread? More importantly, how do you defrost your bread without making it soggy?
You have a couple of options. If you've sliced your bread prior to freezing, you can pull individual slices out and stick them directly into your toaster.
Your next option takes a little longer. We recommend planning for an overnight thaw.
If you don't want toasted bread, you can take your individual slices and place them flat on a baked goods cooling rack. This will allow airflow but will keep your bread from sitting in any moisture that can accumulate while it thaw.
The second method works best if you freeze a full loaf and then you can just let your full loaf sit out overnight on your countertop or on your cooling rack until it is completely thawed. Then you can just cut it like you normally would.
How long is frozen bread good for?
Frozen bread can stay fresh in your freezer for around six months. It will still be safe to eat after six months, but it typically will start to taste stale and maybe a little frostbitten.
If your bread has gone stale, you can always use it for other purposes, like toasting it, making French toast, or feeding it to your chickens.
Now you know how to freeze your bread. You'll never have to miss out on another sale again!
If you need more help getting your foods frozen, check out the Ultimate Freezing Food Guide for a complete quick start reference so that you can have a well-stocked freezer.
For more gardening tips
[pt_view id="5f37129sdf"]