Can you freeze eggs? You might be asking yourself this if you have backyard chickens who are laying more eggs than you can eat. Or, if you have found a banging sale on eggs and you know that building a coupon stockpile is one way to save boatloads of money.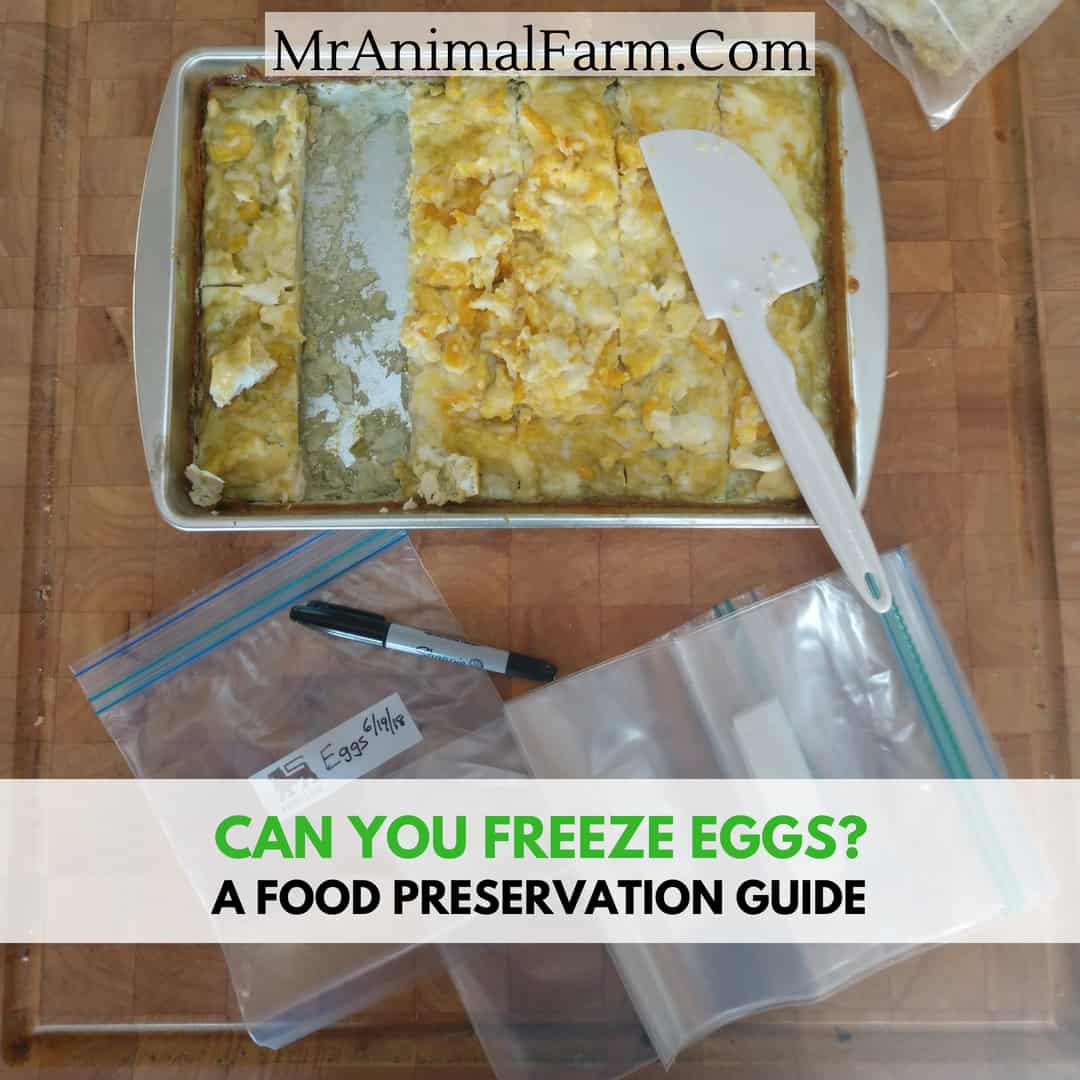 You can freeze LOTS of different foods to help preserve them for later use. Some examples are: freezing sweet potatoes, freezing mashed potatoes, freezing peppers, freezing blueberries and freezing milk.
So, can you freeze eggs too?
The short answer is: Yes, you can! In fact, there are several different ways that you can do this.
Why would you want to know how to freeze them?
Well, anytime you have more eggs than you can reasonably eat before they go bad, you might need a way to keep them without them going bad. Freezing eggs is a way to preserve your eggs so that they don't go to waste.
A few reasons you might want to freeze eggs are:
1) Finding a great sale on eggs and you want to stockup while they are at a rock bottom price. Afterall, buying on sale and creating a stock pile is a top way to save money
2) During Spring and Summer when your chickens are laying eggs like crazy! You can preserve them to use them when chickens decrease egg laying.
3) To make meal prep go faster - by having ready made meals in the freezer that only need to be reheated when you are ready to use them.
How long can you freeze them?
You might wonder, how LONG they'll last? The general timeframe for best use is 6 - 12 months.
However, when any food is frozen properly, and stored under proper conditions, they should technically stay good indefinitely. Their quality could decrease - things like freezer burn or changes in texture.
Now, you might be wondering how to freeze eggs. There are actually multiple ways to freeze eggs.
Let's discuss 5 ways to freeze eggs:
There are many ways to do this. You can freeze raw eggs as well as cooked eggs. And there are multiple ways to freeze the eggs in either state (raw or cooked).
How to freeze raw eggs?
So, there are actually a few different ways to freeze raw eggs. First let's talk about how to freeze raw eggs whole.
We have found two ways to do this and\ both work really well.
1) For the first method, you will need ice cube trays. Simply crack each individual egg it's own pod in the ice cube tray. You can mix yolk and white together or just crack it and leave it.
Then pop the ice cube tray in the freezer and voila, you have frozen eggs. Once the eggs are frozen, you can pop your egg cubes out of the tray and put them into labeled freezer bags.
This method is great if you are freezing eggs to use in baking later. This way when you need three eggs for a recipe, you can just take three egg cubes out, thaw and use in your recipe.
2) The second answer to how to freeze raw eggs is by cracking them into a bowl first. Then you will whisk them together.
Take your whisked eggs and pour them (by portion size) into a freezer bag, label it and pop it in the freezer.
We like to freeze 6 eggs in each bag for cooking for breakfast time.
Can you freeze egg whites?
Ok, so you can freeze them whole, but can you freeze egg whites? Yep! You can use either of the two methods mentioned above for freezing raw eggs whole.
Obviously, the difference in either method is that before freezing the eggs, you will remove the egg yolk so that you are only freezing the egg whites.
Can you freeze cooked eggs?
Now that you know how to freeze raw eggs, you may be wondering: Can you freeze them cooked? Again, the answer is YES!
Now freezing cooked eggs does take a few extra steps and some additional time up front because, well, you have to COOK the eggs before you freeze them. But freezing cooked eggs is great because they are ready to eat when you thaw them - they'll just have to be heated up.
We have found two methods to answer the question can you freeze cooked eggs. Both methods work great.
And it really just depends on which you prefer to do. One method is freezing scrambled eggs and the other method is freezing baked eggs.
How to freeze scrambled eggs:
This method of freezing eggs is really very simple. You literally just do the following -
1) Scramble your eggs like normal. (So crack the eggs, whisk together and cook in a pan on the stovetop). You can do all egg whites or mostly egg whites if you prefer eggs with less yolks. Separating yolks is easier and safer (yay no salmonella!) with a yolk separator.
2) Label a freezer bag with food name (Scrambled Eggs), Amount, and Date.
3) Dump scrambled eggs into freezer bag and stick in the freezer.
Totally simple! And this makes mornings go a lot faster because it doesn't take long to reheat these!
How to freeze baked eggs
Learning how to freeze baked eggs is just as simple as how to freeze scrambled eggs. Personally, I think that baked eggs don't taste quite as good as scrambled eggs.
However, baking eggs takes a LOT less time standing in the kitchen, so this is our preferred method of freezing cooked eggs.
To freeze baked eggs:
1) Crack eggs into a oven safe dish. We like to use either a glass pie pan or a glass brownie pan.
2) Preheat oven to 350 degrees.
3) Place eggs into oven and bake for about 45 minutes. We like to open the oven and stir the egg mixture every 15 minutes or so. This helps the eggs to bake more evenly. Also, they may need more time if you have multiple dishes in the oven and also depending how how deep your dishes are.
4) Remove eggs from oven when fully cooked, cut into portion sizes and place in labeled freezer bags.
Now that you know how to freeze raw eggs and how to freeze cooked eggs. You may wonder:
How to thaw frozen eggs?
The process for thawing frozen eggs whether they are cooked or raw is very simple. Just remove them from the freezer the night before you need to use them.
You can toss the freezer bag into your refrigerator and let it sit over night. By morning, the eggs should be thawed enough for use. Sometimes they may still be partially frozen, but they are usually thawed enough that you can easily cook them (if they are raw) or heat them if they are already cooked.
Now that you know all the ways to preserve your eggs by freezing them, what are you waiting for?
You'll be happy to have frozen eggs ready to use during winter when you don't get as many. Or knowing that you don't have to add them to the grocery bill for a few months.
For More on Food Preservation & Cooking:
[pt_view id="e9197d6btl"]