Ok, I will admit it here, when we learned how to grow peppers, we may have planted 6 varieties of peppers this year that took up 3 full boxes in our garden. It was, shall I say, overkill. This is where freezing peppers came into our lives.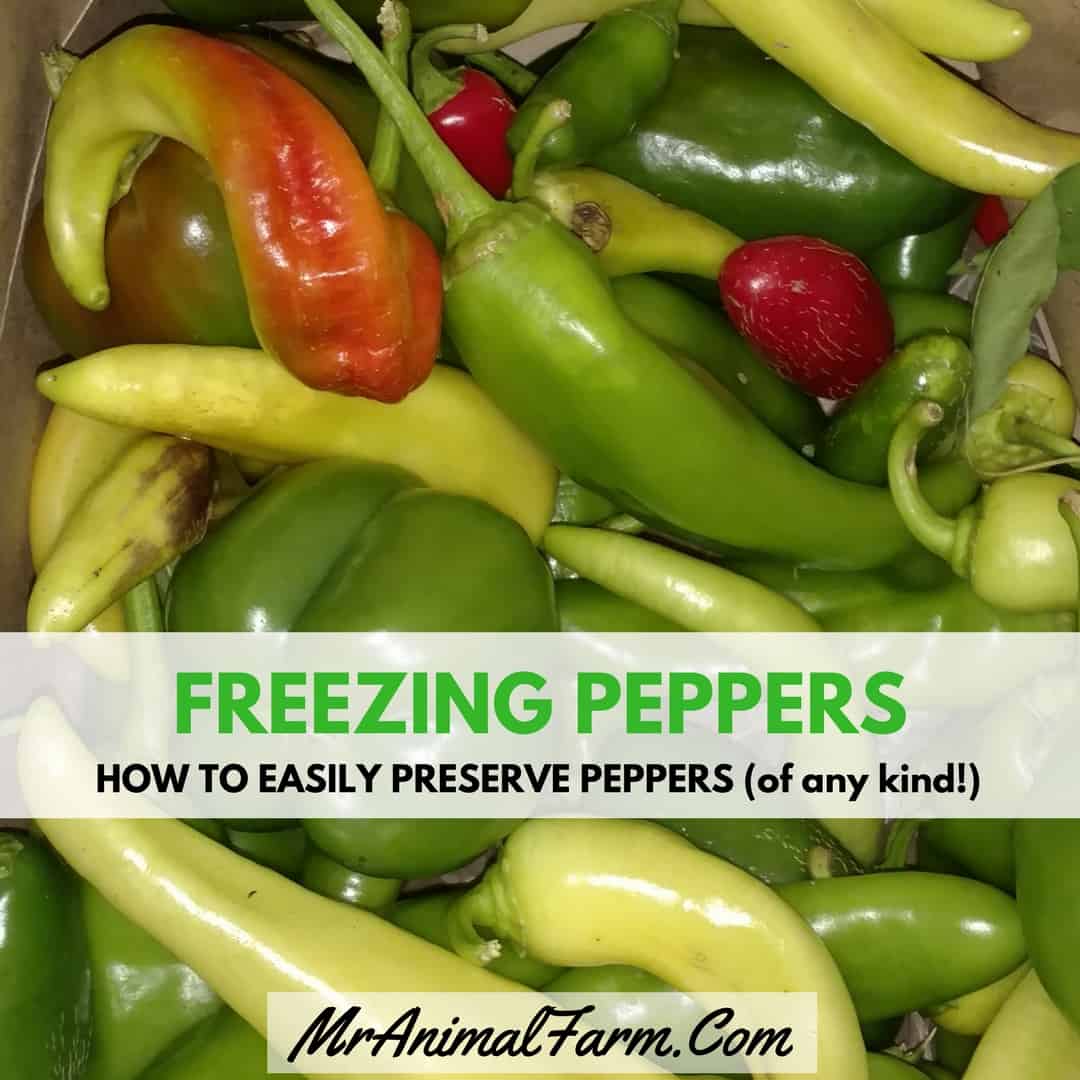 Seriously, we brought in so many peppers, I am ashamed to say that the last harvest actually sat on our counter and eventually had to be tossed (if only I had thought about freezing peppers then!) We decided we needed an easy way to preserve our peppers quickly!
So We Started Freezing Peppers
Generally, we try to use everything on our homestead, so letting peppers go to waste was a big no-no. So, we needed to find a way to preserve these peppers! Let me tell you, freezing peppers is the best way to preserve your peppers. Wanna know why? Well, I am going to fill you in.
If you have been growing peppers then you know a few things already:
First, peppers are SUPER easy to grow they are an easy and productive crop that is perfect for new gardeners. .  Second, there are all different types of peppers.  Third, they are one of the FASTEST growing vegetables. So, you (like us) may get carried away and end up with tons and tons of peppers coming in from your garden.
And if you haven't planned for any peppers in your garden, grab some pepper seeds (any type of pepper) and get them started.  You won't regret it, I promise!
If you are familiar with preserving other veggies out of your garden, you probably know that food preservation can often times be really time consuming.
If you are canning for preservation, you have to make sure your ingredients are just right so that the canned food is safe. And the canning process itself can actually take quite a while.
Of course we do get to work canning peppers as a way to preserve some of them because, well, canned peppers are super yummy! But, quite frankly, there isn't always time for that.
So, what is the easiest way to preserve peppers? Stick them in your freezer.
That's right, you should be freezing peppers!
You might say, well, when you freeze green beans, squash and other veggies it is not as simple as tossing them into the freezer. They have to be prepared and blanched first.
Well, that's why freezing peppers is the magic way to preserve them -- there is no blanching required! We do like freezing in general and also do a lot of freezing blueberries, freezing milk, freezing sweet potatoes, freezing eggs freezing spaghetti squash and freezing mashed potatoes.
Does freezing peppers work for all kinds of peppers? Yes! Whether you love hot peppers (like jalapenos) or sweet peppers (like bell peppers), you can freeze any type of pepper to preserve it.
Need to get all your food preserved easily? Check out the Ultimate Guide To Freezing Food so that you can fill your freezer without in minimal time.
How to Freeze Peppers
As I mentioned, this method of preserving peppers is super, duper easy.
1. Clean your peppers off
We like to dump them all in a strainer, sit it in the sink and run some water over them.
2. Cut off the tops (stems) and very end (bottoms) of your peppers
Most people will also remove the seeds at this point.
(Special note: if you are using super hot peppers, make sure you are using latex gloves. If you don't, you can actually get burns on your fingers and hands - especially if you are processing a lot of peppers. We actually use these nitrile gloves and buy them by the box since we use them in the kitchen and for milking goats.)
3. Cut them up
If you want, you can slice, dice or otherwise prepare the peppers to be in the form you will want to use them in. We don't usually do this, and just freeze them whole or half.
4. Bag them
Dump your peppers into a freezer bag. Make sure the bag is labeled with the date and type of pepper.
5. Freeze them
Just stick the bag in the freezer. That's it!
Yep, that's all there is to freezing peppers! Drop us a line below and let us know what type of peppers you will be preserving this season.
If you need more help getting your foods frozen, check out the Ultimate Freezing Food Guide for a complete quick start reference so that you can have a well-stocked freezer.