You made it through the summer and now the weather has started to get a bit colder. You may have noticed your goats' coats (ha ha) have started to get thicker. They are not out grazing as often as usual. And they are eating A LOT of hay. It should be pretty clear they are preparing for Winter. Now you too can prepare and learn how to care for goats in Winter.
Can goats handle cold weather? Goats are outdoor animals, and because of that, they are pretty good at surviving outside. You can, however, learn some tips about caring for goats, and use a few goat supplies, in the winter that will make their lives much more comfortable.
How To Care For Your Goats In Winter
Everyone needs a nice cozy place to call their home. Goats are no different and providing a comfortable home is your first step in how to care for goats in winter.
Goat Shelter During Winter
Essentially, you want to keep their living space draft free but with plenty of ventilation. The easiest way to winterize your goat shelter is simply provide a place that is fully enclosed or with three sides away from the wind. We used an older drafty barn stall as a fully enclosed shelter but put up a piece of particle board to block the gaps in between the barn's old planks.
This technique adds plenty of ventilation to the stall and also blocks any cold Winter chills from coming through.
Hay plays double duty in caring for goats in winter
Well, actually hay and straw, but often times, your goats will use their hay for their own warming purposes. First, as your goats stop going out into their field to eat, they will stay inside their stall and eat as much hay as they can.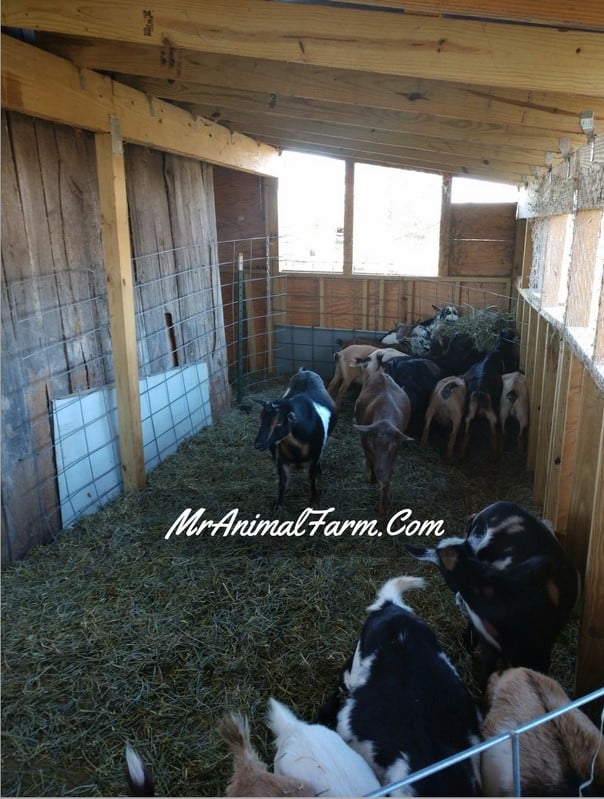 By filling their bellies up with hay, their rumen stays super active. The more active their rumen stays, the warmer their body stays. Your goat is sorta like a little mini goat warming, hay burning furnace (only cuter than a regular furnace).
You will want to be sure you are choosing hay that is high quality so that they get all the nutrients that they need.
Need some help to keep your goats healthy and maintained? The G.O.A.T Herd Management Binder has you covered from supplies to routine care reminders.
Our goats eat almost double the amount of hay during the winter than they do the rest of the year. Combine that appetite with pregnant goats and you could have a huge bill! Make sure you know how much it costs to feed goats.
We combat that by planning a bigger hay budget in the Winter and also by supplementing them with Chaffhaye.
The second role hay plays when learning how to care for goats in Winter is in their bedding. It seems that any hay they do not eat, will end up on the floor of their stall. Don't get too upset at them for this. It is another part of their natural ability to keep themselves warm in the Winter.
Over the Winter, the hay on the floor soaks up all of their waste (that's poop and pee, if we're not being technical) and starts to decompose. The decomposition process basically turns their bedding into a compost pile and becomes a self generating heat source.
Give them plenty of straw and it will cut down on the amount of hay they use for their own bedding.
Need some help to keep your goats healthy and maintained? The G.O.A.T Herd Management Binder has you covered from supplies to routine care reminders.
Heated Water Buckets
Just like you and me, goats need water. When temperatures drop below freezing, your goats' water supply is cut off.
Sometimes, you may have enough goats in the stall combined with the heat of the composting bedding and it will keep their shelter warm enough that their water won't completely freeze.
But this isn't how to get lucky with goat care. This is how to care for goats in Winter. You do not want to count on that happening.
The easiest and most effective way to keep water available for your goats at all times is by using a water heating device. Depending on the size of your herd, you have a few options for keeping your waters from freezing. If you have a smaller herd you can pick up a couple of heated buckets from your local farm store or online.
If you happen to have a larger herd and they all use a large water trough, you can get a heater that actually sits in the bottom of the trough and keeps the water just above freezing temperature. You can also find these at your local farm store or online.
Most importantly, DO NOT USE A HEAT LAMP!!!
I don't think I can use enough excessive punctuation to get this point across. In no way, shape, or form is using an unmonitored heat lamp a safe way to care for your goats in Winter.
They can burst and send shards of glass raining onto your goats. They can spark and create an extreme hazard for your entire herd.
I cannot tell you how many times I have heard of someone losing some or all of their herd due to an awful fire. If you take nothing else away from learning how to care for goats in Winter, please take this; DO NOT USE A HEAT LAMP that is unmonitored!!!
Of course, sometimes goat kidding season hits in the middle of the coldest time of year. And newborn, wet kids may need a little extra heat. If you need to use a heat lamp for baby goats in that circumstance, that should be fine as long as you keep an eye on it at all times.
These are a few of the methods we use for how to care for goats in Winter.
Do you have any tips we didn't mention above? Let us know in the comment section below.
If you need more help keeping your goats healthy and well taken care of, check out the G.O.A.T. Herd Management System - worksheets, calculators, supply management and more to keep your goats in tip top shape while cutting down on time.