This site contains affiliate links. We may earn a commission if you purchase from one of these links. Learn more Here.
If there is one thing we are more than comfortable freezing, it is mozzarella cheese. Not only can you freeze mozzarella cheese, but it barely loses any of it's flavor and thaws like a dream when used as a melted topping for pizza, casseroles, soups, or anything else you want.
If you want to learn more about the best methods to freeze mozzarella cheese, keep on reading!
Can You Freeze Mozzarella Cheese?
You can freeze mozzarella in just about any way you can find it; shredded, blocks, fresh mozzarella balls, even battered and breaded mozzarella cheese sticks! Mozzarella cheese will go from keeping fresh up to 2 months in the fridge to almost 9 months in the freezer.
All you have to do to thaw it is put it in the refrigerator overnight or, if shredding it on a casserole or pizza, use it frozen. In fact, grating a frozen block of mozzarella is easier than grating it fresh!
We freeze a ton of mozzarella. Whatever we can't grow or make ourselves, we wait for it to go on sale and then load up our stock pile with our other frozen food. Since cheese makes just about everything better, we buy a ton of it and then freeze it. It is similar to freezing feta cheese.
We say all of that to say, yes, you can freeze mozzarella cheese. If you are expecting to freeze expensive, fresh mozzarella and then have it retain it's same quality later, it will leave you disappointed. Some higher quality cheeses are prized specifically for how soft and creamy they are.
Once any kind of cheese has been frozen, it will not be able to go back to it's softer, creamier older self. However, it will usually keep it's flavor; usually best in the first 2 to 3 months while slowly losing it over the next 5 or 6 months.
Freezing Stats
Blanched
no
Prep Style
spread in container
cubes or chunks in bags
crumbles in bags or container
Time To Freeze
12 to 24 hours
Time to Thaw
24 to 48 hours in fridge
Uses
salads
side dishes
snack
sandwiches
Freezer Life
3 to 9 months
Why should you freeze it?
Frozen mozzarella is best used as a melting cheese. If you want to put it on top of a casserole, pizza, or pre-made freezer meal, you will be pleasantly surprised with how much flavor your cheese will retain.
Mozzarella already can have a very long shelf life without being frozen. Some types can last up to 2 months if kept cold. That may be all the time you need. But, if you're like us and stock up when you can or just bought too much you can more than quadruple it's useful life.
Frozen Vs Non-frozen
Freezer Life

Fridge Life

freshest in first 2 to 3 months
keeps from 3 to 9 months
up to 2 months
Supplies
You are going to need the following supplies:
How To Freeze Mozzarella Cheese
Mozzarella is one of those cheeses that is available in several different forms for several different uses. Today we are going to focus on freezing shredded (fresh and store bought), full blocks, and fresh mozzarella balls.
There are two things that are used in almost all of the methods below; flash freezing and bag labeling. Bag labeling is easy and just means to use a sharpie to write the contents, freeze date and use by date on the outside of the bag.
Flash freezing has a few more steps.
Need to get all your food preserved easily? Check out the Ultimate Guide To Freezing Food so that you can fill your freezer without in minimal time.
How do you flash freeze mozzarella cheese?
Several of these methods will involve flash freezing. If you are not familiar with flash freezing, it is essentially a pre-freeze before the deep freeze. The steps are:
cover a cookie sheet with aluminum foil or parchment paper
spread the food you are freezing on top of the cookie sheet in a single layer
place the cookie sheet in the freezer and leave anywhere from 2 hours (shredded) to overnight (thick slices or cubes)
Once the food has started to harden, remove the sheet from the freezer and then continue with the rest of the freezing preservation process
Shredded mozzarella
Freshly shredded
Shred or grate your mozzarella onto a covered cookie sheet for flash freezing
Spread the cheese out as thin as you can to prevent it from clumping together.
Flash freeze following the instructions above
Once pre-frozen, scoop your shreds and add them into a freezer bag
Squeeze as much air out as you can and seal
Place this bag into a second labeled freezer bag
Squeeze the air out of the second bag and seal
Place the bag into the freezer and allow up to 24 hours to completely freeze
Store bought
All you need to do with store bought is stick it in the freezer and keep it at a steady temperature (which applies to all frozen food).
Mozzarella block
A solid block of mozzarella will, once frozen and thawed, will become very brittle and crumbly. It will still taste good, but it's texture will not be great for some things you would use it for.
We recommend thinking about what you will need that block for in the future and then prepare it accordingly.
If you are going to want to grate or shred it, either do that first and freeze using the method above or freeze the block solid and then grate without thawing it.
However, slices for sandwiches and things are generally what you would use a block of cheese for. Use a knife and cutting board to slice your block up BEFORE you freeze it.
If you're freezing slices follow all of the steps or skip the slice specific steps at the beginning and go straight to the wrapping step if you're freezing a solid block.
Use a knife to cut according to your needs
Lay all of your slices in a single layer on a covered cookie sheet and flash freeze them. Once frozen, take them out and prepare to wrap.
You can either freeze individual slices or, bundle them in groups according to what you will need per meal.

For example, if you have a family of 4 that will each eat 1 sandwich for lunch, wrap 4 slices together so you can thaw them at the same time.
Pro tip: place a small square of parchment or wax paper in between each slice prior to wrapping to keep them from freezing together.

(Block steps start here) Wrap your cheese as tight as you can in cling wrap.
Then put a second layer of cling wrap around the cheese.
Put the wrapped cheese in a freezer safe baggie and push out all of the air.
Place the bag in the freezer and let it freeze for about 24 hours.
Pro tip: You can use a straw to literally suck the extra air out of the bag if you leave a small opening at the top of the zipper bag.
Double pro tip: Use physics to your advantage and dip the mostly closed bag in a large bowl of water. The water pressure will push the air towards the top of the bag. Then, just zip it tight.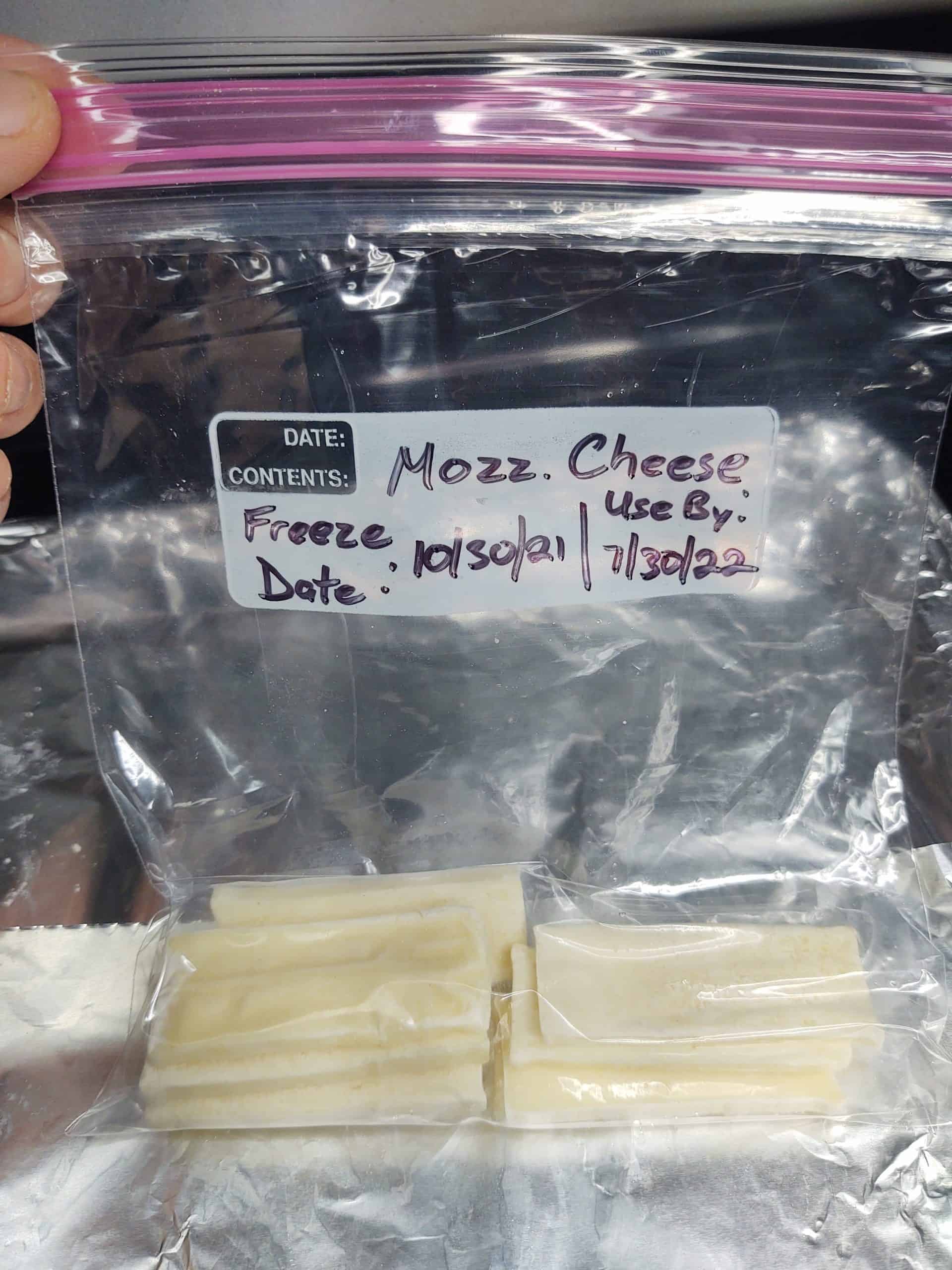 Fresh mozzarella balls
This is the good stuff that you find in the specialty cheese section, individually wrapped in it's own brine. Fresh mozzarella balls are similar to other soft creamy cheeses, like Boccincini and Burrate, which should not be frozen but enjoyed fresh.
Freezing, while a great way to preserve your cheese so it will last much longer, will destroy the creaminess of these types of cheeses.
But, if you still want to do it anyway, this method, similar to the block method above, will give you the best results.
Drain all of the liquid off of the mozzarella balls and pat them dry with paper towels.

You don't want to freeze it in the liquid. At worst you will end up with soggy, frost bitten cheese and at best it will just take longer to defrost with no discernible advantage from having been frozen in liquid.

Decide if you are freezing whole balls or if you want slices, cubes, etc and cut accordingly
If you are cutting it, place all of the pieces in a single layer on a covered cookie sheet and flash freeze them. Once frozen, take them out for wrapping.
(Ball steps start here) Wrap your cheese in cling wrap very tightly.
Wrap another tight layer around the first.
Put the wrapped cheese in a pre-labeled freezer bag.
Place the bag in the freezer and let it freeze for about 24 hours.
This method will also work with marinated mozzarella balls. You just want to make sure they are tight enough that the air and moisture cannot mix in the freezer.
Frequently Asked Questions
Q1. How do you defrost it?
As we mentioned earlier, you can use grated and shredded frozen mozzarella straight from the freezer without thawing first. It is thin enough that, even if put on a salad, it will not stay frozen for long.
For the other types, take the bags from the freezer and put them in the fridge. Allow them to slowly thaw over 24 to 48 hours. This will make sure that they keep as much of their flavor and texture as possible.
Q2. Can I refreeze thawed mozzarella?
Like pretty much any type of dairy product, you can't refreeze mozzarella. The initial freeze and thaw already wreaks havoc on the texture. Refreezing will make it even worse while also destroying the flavor and overall quality.
Take it from us, freeze small portions and only thaw what you need.
Q3. Can you freeze mozzarella sticks?
Mozzarella sticks are really easy to freeze. Line them up on a cookie sheet, flash freeze, and put them in labeled bags. When you are ready to make them, skip thawing and put them straight into the oven at 350° for 10 minutes.
Q4. How do I freeze mozzarella curd?
Follow the same instructions as the fresh mozzarella balls above. Double wrap them in cling wrap, bag them, and stick them in the freezer. They should keep pretty much forever
If you need more help getting your foods frozen, check out the Ultimate Freezing Food Guide for a complete quick start reference so that you can have a well-stocked freezer.