I don't know about you, but I looooove Mexican food. In fact, I would say I eat some form of Mexican cuisine almost every day of the week. One of my absolute favorite things to eat is a Chipotle burrito bowl.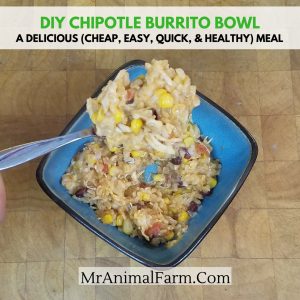 One reason I can eat it so often is because it is super cheap, easy to make, and quick to cook in the Instant Pot. Want to learn how you too can eat a delicious, cheap, and healthy meal as often as you like? Keep on reading!
The DIY Chipotle Burrito Bowl recipe is all about longevity. I am a huge fan of cooking once and it lasting several meals (why I also love my crockpot).
And for a few more reasons to love your crockpot...
Ingredients:
The DIY Chipotle Burrito Bowl recipe is really simple. It has just a handful of ingredients. A literal handful. Like just five of them. You probably have these five ingredients sitting in your cabinet right now. They are:
- rice (I use long grain brown rice)
- beans (you can use black beans or kidney beans
- corn (I use a no salt added can)
- salsa (you can experiment with different salsas for different flavors)
- chicken (you can almost always get a good deal on frozen chicken breasts)
First things first
You will need to get out your Instant Pot. The Instant Pot is a programmable pressure cooker and has made my life a million times easier. If you don't have one already, you should definitely pick one up ASAP.
Add your water
Okay, so technically there are six ingredients if you count water. Which I suppose you should count it because without it you will have a big dried out mess...and possibly a fire hazard.
So go ahead and add 2 cups of water into your Instant Pot. Our IP has measuring lines conveniently placed inside the bowl so you can stick it directly under your faucet.
Now add your rice
As I mentioned above, I use long grain brown rice but you can use whatever kind you like. Just remember, different forms of rice my cook differently in the Instant Pot.
Whichever type of rice you use, you will need about 2 cups of it.
Put in your beans and corn
I like to use kidney beans or black beans. Honestly, I use whichever I happen to grab first out of my cabinet. Both taste good but the differences are minimal but add some good protein and fiber into your meal. I use 1 can which roughly translates into 1.75 cups.
I like to use 1 can of no salt added sweet corn. For you gardening types out there, this is about 1.75 cups of fresh corn off the cob.
Add your salsa
This is where you can really play with the flavor of your DIY Chipotle Burrito Bowl. I like to use a Chipotle Style Salsa for a bit more of a smoky flavor. But you can try any kind you like. I have my eye on a fancy mango papaya salsa but haven't mustered up the courage yet.
You will need about 1 cup of salsa. You can add or subtract based on your own taste preferences.
Add your chicken
The last ingredient is chicken. Nothing beats a delicious chicken burrito bowl.
I started making this recipe using frozen chicken tenderloins. But then I found an awesome deal on frozen chicken breasts and had to adjust the recipe a bit.
I have found the best ratio is either 4 chicken tenderloins or 1 large boneless, skinless chicken breast. Whichever you choose, it should be about 4 oz.
Combine your ingredients
I have found it doesn't make much difference in what order you add the ingredients, although I do generally put the water in first.
Put everything into the Instant Pot and close the lid. Make sure there is no liquid or rogue grains of rice on the lip of the bowl. This can cause a break in the seal and make the Instant Pot not pressurize properly.
Set your timer
I set my Instant Pot on the Manual setting and set the timer for 20 minutes. After the 20 minutes has gone by, quick release pressure and let sit for 20 minutes.
Enjoy
Once you open your Instant Pot (careful, it will be hot and steamy) take a spatula and use it to shred the chicken.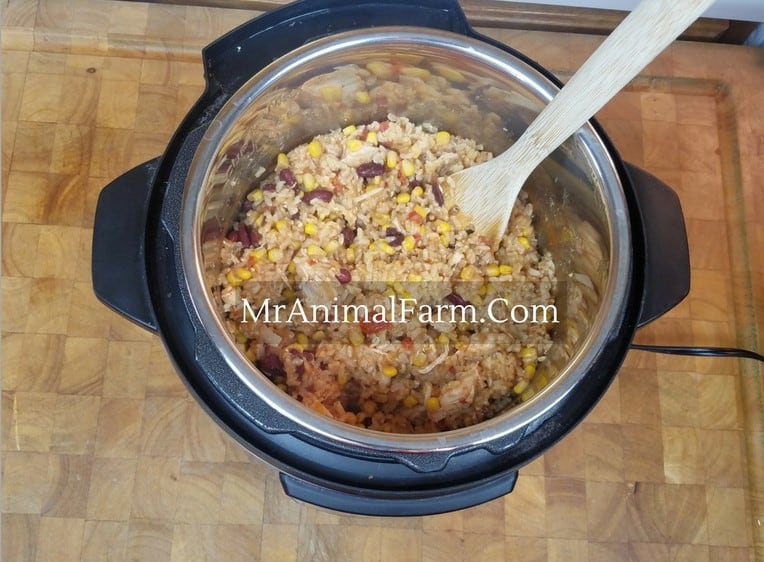 A serving is about a single cup. I add some Tapatio hot sauce and an ⅛th cup of shredded Mexican cheese.
Then scoop into a large pyrex bowl and store in your refrigerator.
Ingredients
 - 2 cups of water
 - 1 can no salt added kidney or black beans (1.75 cup if not using cans)
  - 2 cups of long grain brown rice
 - 1 can no salt added sweet corn (1.75 cup if not using cans)
 - 4 ounces of chicken (4 tenderloins or 1 boneless, skinless breast)
 - 1 cup of Chipotle Chili Pepper salsa (or any salsa you choose)
Nutritional Information
Serving Size: 1 Cup
Servings per batch: 8
Calories: 343
Carbs: 50.7
Protein: 22.4
Fat: 7.1

For more great recipes
[pt_view id="e9197d6btl"]