Getting gifts for farmers is tough business. Often times, minimalism comes along with the homesteading lifestyle. If you don't need it, you probably don't want it. This can prove a bit frustrating for your loved ones when the holidays come around and it's time to buy gifts for farmers and ranchers.
So, what do you do in this situation? What do you get a farmer for Christmas? Fortunately there are some things that every homestead needs and most of them are useful all year round!
So the next time your non-homesteading loved one asks what you want this holiday season, point them to this list of the top farmer gift ideas that are useful ALL year round.
You may even want to get really specific and find some gifts for chicken lovers, gifts for goat lovers, gifts for gardeners or gifts for food preservers too!
25 Awesome Gifts For Farmers
Clothing
Coveralls
Working outside, especially with animals, can be pretty dirty work. And while we accept that often times things can get messy, it doesn't mean we like it, especially on our clothes (I'm talking about poop here).
That is what makes coveralls such a great gift idea for farmers. They keep your clothes from getting too nasty and from wearing out too quickly.
Plus, some have insulation (men and women) which is great for keeping you warm in the colder months. They come in non-insulated (men and women) too. Since they come in both men and women's styles, they make great mother's day and father's day gifts for farmers.
Boots
A good pair of rubber muck boots are invaluable. Nothing is worse than being stuck outside working hard with soggy shoes. Rubber muck boots (men and women) are heavy duty, sturdy, and oftentimes have insulation.
Plus, they are quick to just slide on when you have to run out the door to take care of an emergency project. Water proof boots make an awesome gift for farmer dad, mom, or just anyone.
Heavy-Duty Work Gloves
Homesteading involves a lot of working with your hands and your hands will definitely suffer. A quality pair of heavy-duty thermal lined gloves is one of the best and most useful farmer gifts. They will save your hands from the wear and tear of rigorous farm work.
So when it comes to digging, stretching barb-wire, or freeing a groundhog that is caught in your fence (true story), your hands will appreciate this gift for many years to come.
Single Use Gloves (Throwaway Gloves)
Sometimes your hands need warmth and protection but also require a bit more dexterity. This is where single use or "throwaway" gloves are handy (pun absolutely intended). The great part about these gloves is despite being known as single use or throwaway, they are actually pretty durable.
I have a single pair from a six pack I bought months ago that are still going strong. These gloves are great for tasks like stacking hay and holding screws or nails (they will not provide much protection for a poorly aimed hammer).
Thermal Under Clothes
Thermal underwear may be the gift you threaten your kids with when they won't behave but buy some for a farmer and you will see their eyes light up. They are light weight but hold in a ton of heat for those cold Winter days on the homestead. Combine these with some boots and coveralls and you will have a very happy (and cozy) homesteader. Get them for farm boys and farm girls.
A Heavy Coat
Last, but certainly not least, a good waterproof, hooded, work coat is a god-send (or in this case, a you-send). Some days are so cold and wet that thermal under clothes and coveralls aren't enough.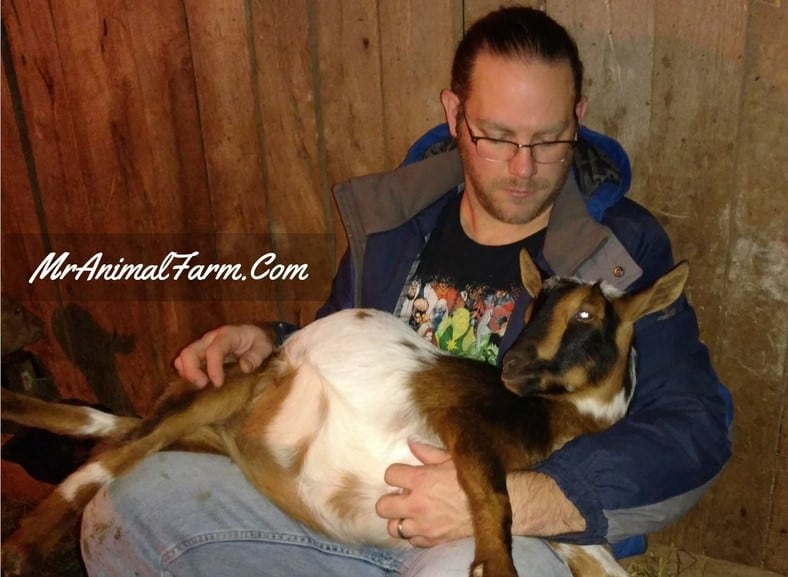 A nice heavy jacket will keep the weather at bay on those days that chill you to the bone.
Homesteading and Farming Books, Planners and Courses
If you are looking for a gift for a farmer or homesteader that is still learning, they may enjoy an educational gift. Here are some books, planners and courses that may make great gifts for hobby farmers or more serious farmers:
Profitable Homesteading Worksheets
If you need more help keeping your goats healthy and well taken care of, check out the G.O.A.T. Herd Management System - worksheets, calculators, supply management and more to keep your goats in tip top shape while cutting down on time.
Tools
Head lamp
Okay, show of hands. Who has ever had to run outside at night holding a flashlight in their teeth (while the battery died, no less) or use their phone as a light? I can't tell you how many times this has happened to me. An easy fix to this problem is also pretty cheap. Get an adjustable strap head lamp.
They are comfortable and generally come with super bright LED bulbs. Plus, the LED bulbs use less energy so they are brighter AND last longer than a regular flashlight. I would flip over this gift for farmers!
Dry erase board
Sounds like a boring gift. I promise, it isn't. You can write notes for farm hands, feeding instructions for animals, medication schedules, breeding schedules, etc. The possibilities are endless.
Once you add this to your barn you will wonder how you ever lived without it.
Pocket Knife
Pocket knives are one of the best tools you can carry with you on your homestead. In fact, if this were a ranked list of gifts for farmers, a good argument could be made for this to be at the very top. You can always carry the classic Swiss Army Knife which range in sizes and functions. A good Swiss Army Knife means you will always have a tool with you in a pinch.
Personally, I prefer to carry a single blade knife with a pocket clip. Most of the work I do on our homestead is right next to the workshop, so I don't need to carry around a multi-tool style knife. The single blade is light weight and stays sharp for a long time.
Tool Kit
No farm is complete without a good tool kit. You can get a great basic set of screwdrivers, ratchet, hammer and wrench for a relatively low cost and be prepared for almost any job that comes your way.
Zip Ties
Obviously, in a perfect world, as soon as something breaks we would fix it. Unfortunately, this is not a perfect world and there are times when you need to fix something quickly as opposed to permanently. We have found zip ties to work wonders for so many of our quick fixes.
Need to pull a chicken from small run but they are hiding just outside of arm's reach? Cut a hole in the wire and zip tie it back together. Got an overly excited buck who is pushing his way through a welded wire fence? Zip tie a few sheets of chicken to that section of fence until you can replace it.
Measuring Tape
Measuring tapes come in a few varieties. Everyone needs a standard metal measuring tape that can clip to their work belt. It is essential for anyone that has any desire to build anything.
We also recommend a reel style measuring tape. They often come in measurements of 100 feet or more. They work great for measuring large sections of land like planning a garden or figuring out how much fencing materials to buy.
Funny Gifts For Farmers
Maybe you need some gifts for the farmer who has everything. Maybe they just need a good laugh every once in a while. Here are a few funny gifts for a farmer they may enjoy.
"I Love Farming" T-Shirt
This shirt is more for the farmer that doesn't mind a little crass humor (you know you know one like that). Give them a good laugh with this provocative t-shirt!
Cow Poop Coffee Mug
Every good farmer needs a good cup (or pot, whatever) of coffee to start their day. Why not give them a good chuckle to go along with it with a funny coffee mug?
Gifts For Farmer Dad
Here are several ideas that make great father's day gifts for farmers. These can also pull double duty for any farmer husbands out there.
Wallet Ninja- 18 in 1 Credit Card Sized Multitool
This is a really handy tool to have with you. It's not possible to ALWAYS have a tool kit with you but the Wallet Ninja will work in a pinch.
The Old Farmer's Almanac
You can't go wrong with a copy of the Old Farmer's Almanac. Grab the most recent edition today and get year long updates on things like weather, gardening tips, astronomy, recipes, folk lore, and more!
Waterproof, Portable, and Rugged Outdoor Bluetooth Speakers
Nothing makes time fly when working more than some good music. This outdoor, bluetooth speaker boombox is perfect for farm work. It is waterproof, durable, and has a 40+ hour (rechargeable) battery life.
Farm Girl Gifts
Men aren't the only farmers out there. There are plenty of women out there just as capable of building a homestead. They deserve some awesome gifts too.
"Barn Hair, Don't Care" Trucker Hat
Keeping your hair out of your face is a must when handling just about anything on a farm. The best way to do that is with a stylish baseball cap.
"Just A Girl Who Loves Cows" T-Shirt
Sometimes you just want to let the world know who you are. When those times come, wear your love of cows with pride.
Massagers for Neck and Back Pain Relief
After a long day working on your farm, a nice massage would be great. This massager is the next best thing to hiring your own personal masseuse (and any guy farmer that says they wouldn't want this too is lying).