If you or someone you know loves goats, you know that love can be an all consuming thing. EVERYTHING is about their goats. So what kind of gifts for goat lovers are the best?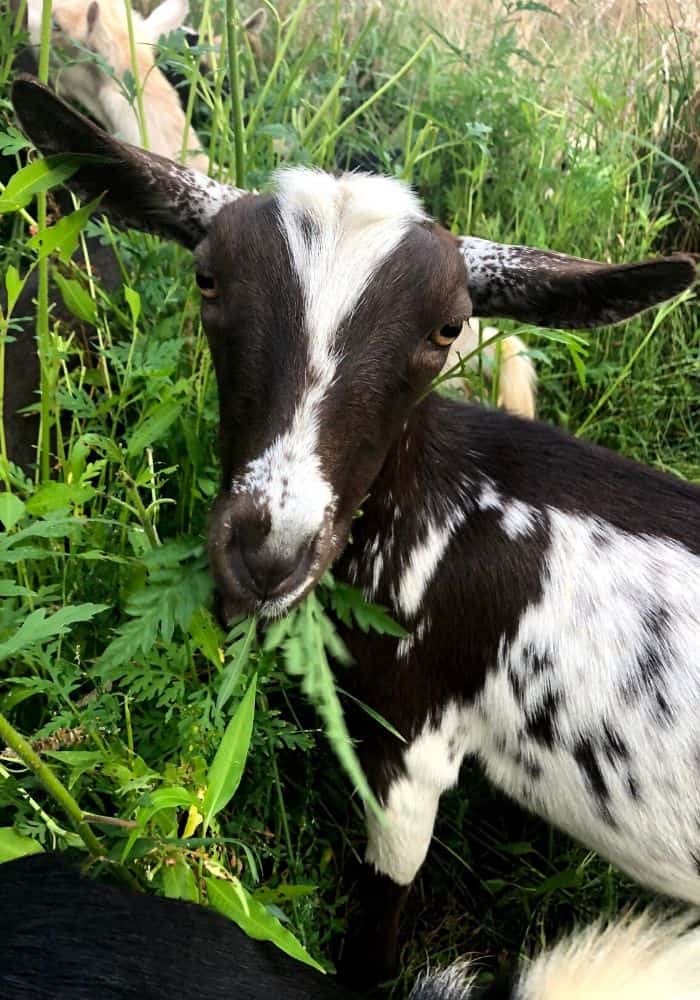 To get a memorable gift for your goat lover, you have to get into their mindset. You can get them something to wear that tells the world about their infatuation. You can also get them something decorative aka goat chic.
You can never go wrong with some educational material so they can learn even more about their favorite animal. Maybe they want something for their goat and not for themselves.
While you're at it, you can also pick up some gifts for gifts for chicken lovers, gifts for farmers, gifts for gardeners, and gifts for food preservers too!
20 Awesome Gifts For Goat Lovers
Gifts for Actual Goats
The person you're getting a gift for may not actually need or want anything. Maybe they just want to make sure their precious goats are happy and taken care of. When that's the case, here are a few items that are sure to be a hit.
Trimming goat's hooves to keep them nice and maintained is a crucial piece of their health and comfort. This deluxe hoof care set will make sure their feet are always feeling great.
A good set of hoof trimmers can always be put to use on a goat farm. Even if they already have a set, they wear out over time and will need to be replaced. No goat lover will think this is a bad gift.
Goat hobbles are one of the best tools you can have when dealing with goats. They make life easier whether trimming hooves or milking them on the milk stand. Keep your goats grounded and your giftee free from hooves to the face.
Clothing
Just like Superman has an "S" on his chest, you're goat loving friend will enjoy showing the world what they stand for.
It's an iconic design that fits the goat motif all too well. This is sure to get constant use.
This t-shirt is a mood. Anyone that loves goats will get a good laugh out of this shirt. It perfectly encapsulates the mindset of your average goat farmer.
Hoodies are one of the greatest inventions of all time. They keep you warm and it's like wearing a hug.
Plus, you get a funny goat phrase to go along with a little warmth and comfort.
Keep your head warm and who everyone your love for goats with this I Love Goats beanie cap. It's cute, comfy, and beats having to brush your hair to go to the barn.
Formal occasions don't have to be goat free. Sneak in a tie with little, tiny goats embroidered into it. Perfect for church, weddings, prom, and any other tie wearing function.
These socks will go perfectly with any other item on this clothing list or they could make a great gift of their own. High quality socks with goats are a perfect gift for any time of year.
Good, waterproof boots are a must have when you have goats. These boots, with their bright blue color and adorable goat design can add a little bit of fun to even the rainiest of days.
Last but not least, the goat lover in your life will absolutely love this stylish piece of goat jewelry. It is stainless steel and features a goat with a heart shape in the middle.
Goat Books, Planners and Courses
If you are looking for a gift for a goat farmer or homesteader that is still learning, they may enjoy an educational gift. Here are some books, planners and courses that may make great gifts for hobby farmers or more serious farmers:
If you need more help keeping your goats healthy and well taken care of, check out the G.O.A.T. Herd Management System - worksheets, calculators, supply management and more to keep your goats in tip top shape while cutting down on time.
Grownups like to color too, ya know. This goat themed coloring book is a perfect gift for when they just want to decompress and relax.
No doubt you've seen screaming goat videos online before. They are soooo hilarious. This is a fun little decorative piece with a companion book.
If you know someone who is a bit craftier and self sufficient, this is a perfect gift. Here are several recipes, cheeses, soaps, and more for the goat lover who likes to make stuff.
Make Your Own Goat Cheese
This goat cheese kit has everything you need to make your own cheese at home except the goat milk. Obviously, if you or your friend have goats, you may be able to supply that on your own.
This is for the cheese maker that is a bit more experienced and doesn't need a whole starter kit. This pack can make up to 10 lbs of cheese, which in itself, is a perfect gift.
Funny Gifts For Goat Lovers
Everyone could use a good laugh. These gifts are perfect for just that.
This decal is sure to draw attention and some knowing nods from mothers everywhere. I feel like you may not even NEED goats to relate to this gift.
Every good farmer needs a good cup (or pot, whatever) of coffee to start their day. Why not give them a good chuckle to go along with it with a funny coffee mug?
For more on goats
[pt_view id="89114c7qgm"]