This site contains affiliate links. We may earn a commission if you purchase from one of these links. Learn more Here.
Asparagus is one of those vegetables that is so good. Nothing is better than lightly covering them in some olive oil and tossing them on the grill alongside whatever else you may be cooking. In other words, we love it and we want to make sure we always have it available. So, can you freeze asparagus and still have the same delicious meal?
So, let's scroll on down and keep reading to find out how you can freeze these wonderful veggies!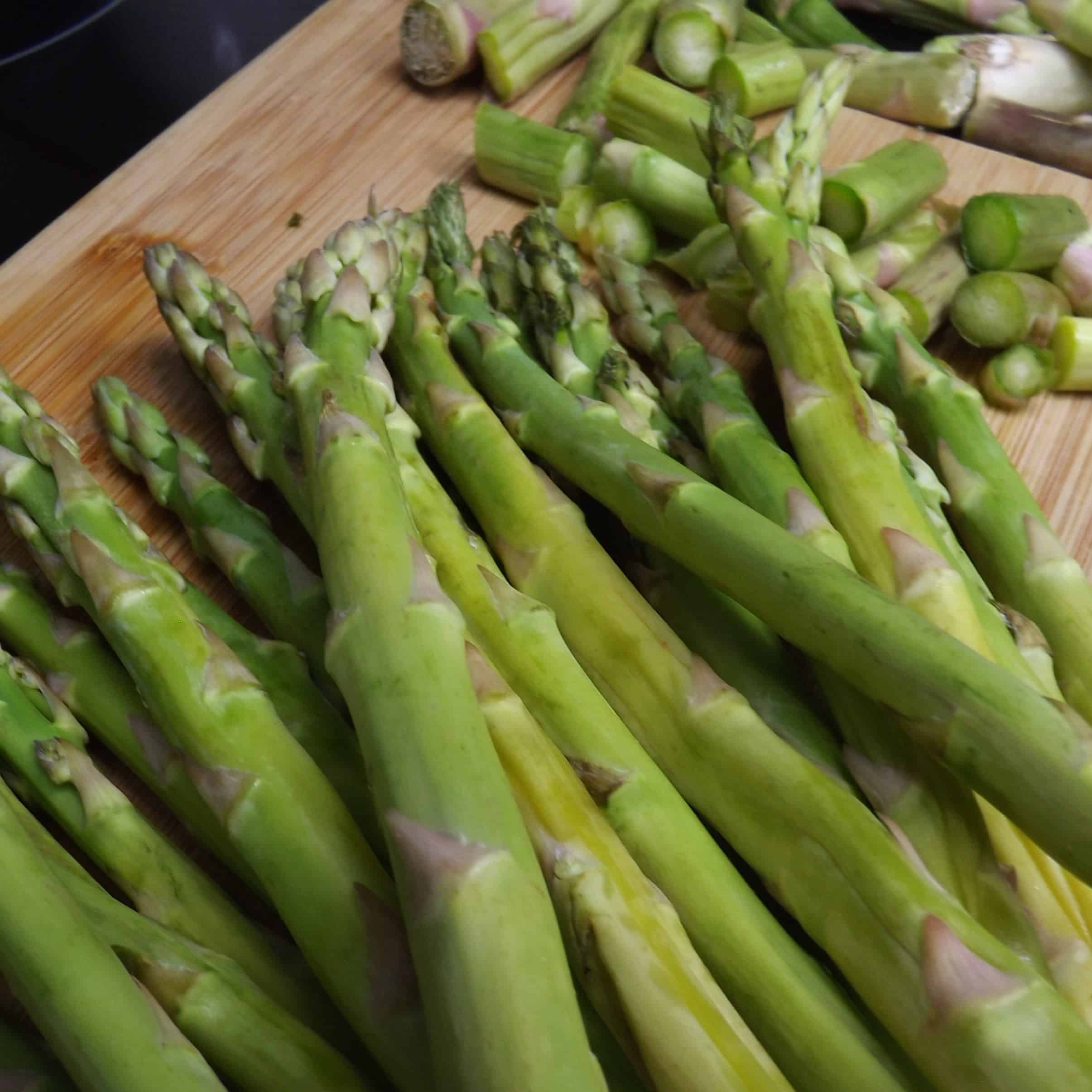 Can You Freeze Asparagus?
You can easily freeze asparagus using an easy blanching and flash freezing technique. The best way to freeze asparagus is to blanch, flash freeze, and then bag it for deep freezing. It will last you about a year or so and will retain most of it's flavor the entire time, with the peak in the first 2 or 3.
It is the same method we use with many of our more dense veggies like yellow squash, zucchini, radishes and beets as well as some less dense veggies like cabbage and Bok choy.
Not only can you freeze asparagus, but it turns out great when you do! Admittedly, it will lose some of it's crisp texture like any other vegetable, but you were going to cook it until it was tender anyway, right? It can be added directly into a recipe without being thawed first or can thaw in the fridge overnight.
Can you freeze asparagus without cooking them?
If you plan to eat the asparagus relatively soon (like within a week), you will probably be fine not to freeze asparagus first. But, if you plan to go any real length of time, you should always blanch your veggies before freezing them.
Why do we say blanch instead of cook? Blanching works because it is essentially starting the cooking process. Many fruits and veggies have an enzyme that cause them to continue aging even if they are frozen. Blanching kills that enzyme and stops the aging process. When we quickly remove the food and put it in an ice bath that sudden temperature change stops the cooking process.
Need to get all your food preserved easily? Check out the Ultimate Guide To Freezing Food so that you can fill your freezer without in minimal time.
Blanched
Small: 2 minutes per 1 lb
Medium: 3 minutes per 1 lb
Large: 3-5 minutes per 1 lb
(up to 5 depending on thickness)
Prep Style
Whole
Pieces
Time To Freeze
2 to 4 hours (flash freeze)
12 to 24 (deep freeze)
Time to Thaw
a few hours in the fridge
can cook in oven or microwave without thawing
Uses
casseroles
baked dishes
soup
pasta
Freezer Life
up to 12 months
Frozen Vs Non-frozen
| | |
| --- | --- |
| Freezer Life | Fridge Life |
| up to 1 year | 3 to 5 days |
Supplies
You are going to need the following supplies:
How To Freeze Asparagus
You can freeze asparagus as whole stalks or cut into pieces. Whole stalks seem to hold up a little better but both work just fine. We will use a combination of blanching and flash freezing to get them ready for the deep freeze.
Many foods are frozen with this same technique.
How To Flash Freeze
We use flash freezing to make sure everything is frozen evenly and does not clump and stick together. It is kind of like the opening act to the deep freeze headliner.
cover a cookie sheet with aluminum foil or parchment paper
lay the food in a non-overlapping, single, layer
put the cookie sheet into the freezer for 2-4 hours up to overnight (depending on what you are freezing)
removing the cookie sheet from the fridge and continuing with the instructions
This method will give you the best results with smaller, more moist, foods and portions like blueberries, blackberries, carrots, watermelon and cantaloupe chunks, and raspberries.
How to Blanch
We've talked a lot about blanching already but not actually how to do it. Here are the basic steps.
Set a pot of water to boil on the stove
Fill a large mixing bowl with ice water
Place what you are blanching (asparagus, in this case) in a colander that will fit in the pot of water
Once the pot of water is at a rolling boil lower the colander into the boiling water for 2 to 5 minutes.
After the timer goes off, take the colander out of the boiling water and immediately put it into the ice bath.
reset the timer for the same amount of time you did for blanching
once cooled, pat or air dry your asparagus before moving on to the next step
Freezing Asparagus
wash your asparagus in the sink in a colander
before or after washing, sort your asparagus into piles of small, medium, and large stalks

Small is thinner than a pencil
Medium is about the thickness of a pencil
Large is anything thicker than a pencil

use a knife to cut the thicker, more branchlike, ends down to the more tender, edible part

you can usually find that line by bending the asparagus until it snaps

Trim your asparagus all to about the same size and length
Blanch the asparagus following the blanching instructions above; 1 lb at a time. Here are the times for each size:

Small: 2 minutes per 1 lb
Medium: 3 minutes per 1 lb
Large: 3-5 minutes per 1 lb (up to 5 depending on thickness)

Once blanched, cool, and dry, flash freeze everything
Now that everything is good and cold, sort your asparagus into serving size portions and place them into labeled freezer bags

Bag labels should have contents, freeze date, and best by date

Put the bags in your long term storage freezer and allow 24 hours to freeze with minimal disturbances
If you need more help getting your foods frozen, check out the Ultimate Freezing Food Guide for a complete quick start reference so that you can have a well-stocked freezer.