If you are currently a homesteader or if you are thinking about starting a homestead, you may wonder how to make money homesteading or farming.
There are several ways to make money homesteading or farming . These can range from things that will make a little extra cash to things that could potentially replace your "traditional" job as your income.
It is always nice to have a few ways that your homestead is bringing in money in order to support the time and effort you put into all of the endeavors. You never know when you may need to make an extra $1,000 a month.
Once you have reviewed these ways to make money homesteading, checkout these profitable homesteading worksheets so you know exactly what you are making!
Here are 15 Ways to Make Money Homesteading
Money Saved
Ok, so this might not be the most intuitive way to make money. However, it is likely that if you are growing your own food, producing your own meat or other products that your cost for the high quality of these items will be less than if you were purchasing an equal quality product in the store.
Most homesteaders will also be using everything on their homestead which decreases waste. This money saved puts extra money in your pocket. Check out our free guide on how we save money homesteading for more details on saving money.
Selling Pigs
You can raise pigs to butchering age and sell the processed meat product or sell piglets.
Selling Milk
You can do herdshares or sell raw milk from your farm (if your state allows). Or sell the milk for pets/animal consumption.
Some states do require a permit even to sell for animal consumption, so be sure to look up your state specific rules.
Selling Goats
You can sell baby goats either for dairy, meat, or wool. If this sounds like something you would enjoy you can learn all about Raising Goats with one of our courses!
For more details, check out how to make money raising goats.
Selling Cows
Just like with pigs, you can raise the cows to butchering age and sell the processed meat or sell young cows.
How to make money homesteading and farming with chickens
Selling Chicken
You can sell butchering age chickens or you can butcher and sell the processed meat. Some states allow you to process and sell yourself. Others you must take to a certified processor.
So, make sure you know all of your states requirements before selling any homegrown meat.
Selling Hatching Eggs
You can keep breeding chickens and sell their fertile eggs. Depending on the breed, hatching eggs can sell for a good amount of money. Some more rare breeds, like Silkie Chickens, can be in pretty high demand.
You will likely want to be NPIP certified for this. All that means is your chickens have been disease tested and that other chicken owners can be confident their flock won't catch any chicken illnesses from your birds.
Selling Chicks or Pullets
You can hatch your own chicks and sell them as day-olds or raise them to be old enough to tell their sex and sell the girls as laying hens for a premium price.
Here are some more ideas on how to make money with chickens. We average about $500/mo here on our homestead!
Not sure how to incubate chicks or even where to start with raising chickens? Check out How to Get Started Raising Chickens.
Selling Homemade Soap
If you are a soapmaker (or you can learn to be a soapmaker), you can sell your own homemade soap. This is a great value added product if you have dairy goats.
Selling Eating Eggs
You can get extra laying hens and sell their eggs as eating eggs. This is a great way because it won't take much extra time.
Make sure that you have the right breeds for your flock to get the most eggs!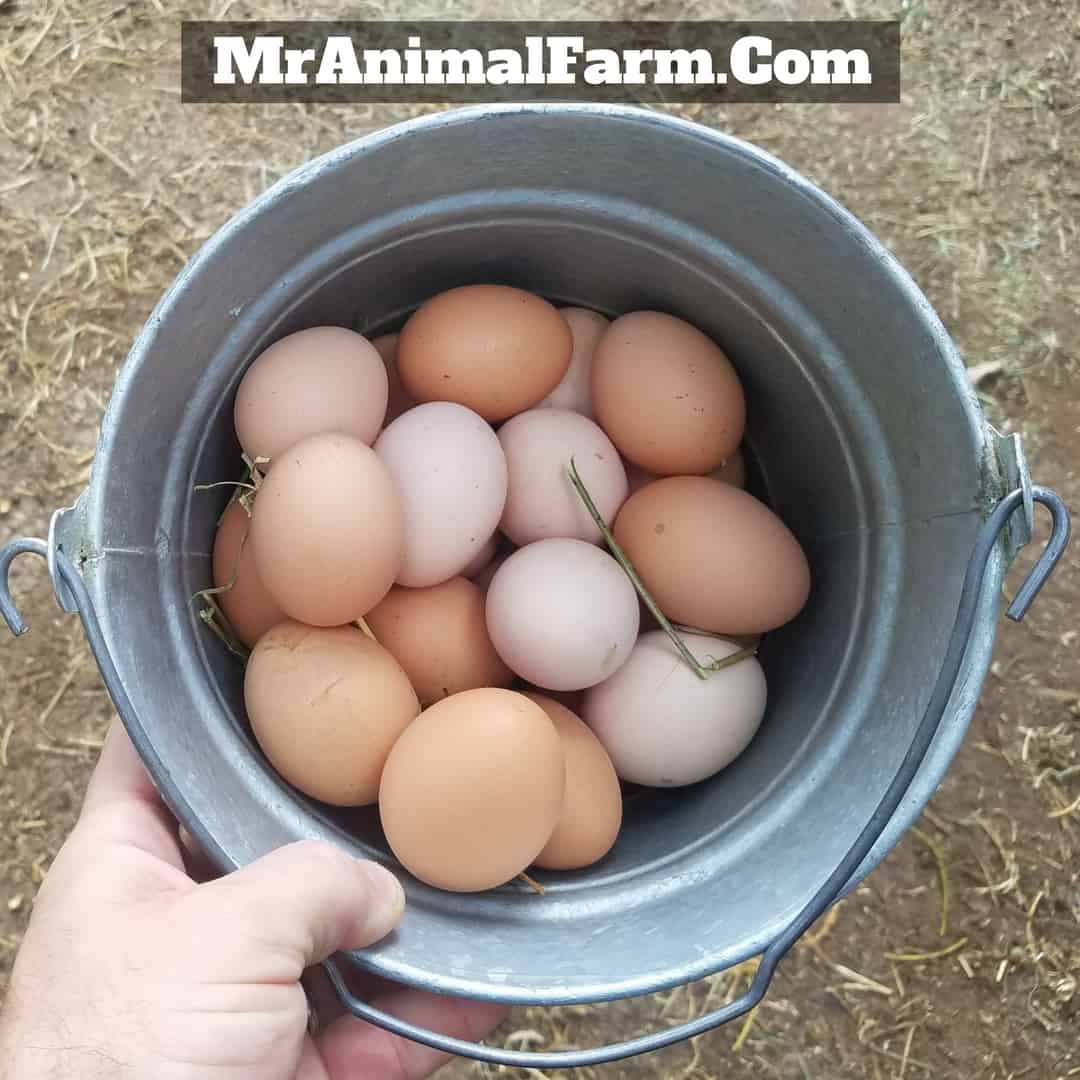 Selling Wool/Fiber
If you have wool or fiber animals such as angora goats you can sell their fiber. If you are a good spinner, you can sell it spun.
Or you can spin your wool/fiber and make products like sweaters and throws to sell! Making full products like these will appeal to more than just other homesteaders which opens up your customer base!
How to make money with food
One of the most notable ways is through traditional farming. You can farm a whole host of fruits and vegetables to make money.
Selling Fruits
If you have fruit trees or a berry patch you can sell your extra fruit at local farmer's markets. Or you can have a you pick stand at your farm.
Selling Vegetables
One way to make money homesteading is with your garden! You can grow extra vegetables in your garden and sell them at your local farmer's markets or to local restaurants.
Create a CSA
You can take the eating eggs, meat products and fruits and vegetables listed above and create CSA packages where you have customers that pay a price to get a varied supply of items each week.
Selling Baked Goods
You can get a certified home kitchen and make baked goods such as pies, cakes or other items.
All of these ideas can help you make money homesteading. Of course, you will want to look into your local laws.
Most states have specifics around things like selling processed meat, baked goods, raw milk and the like. This information can usually be pretty easily found by looking at your state's Department of Agriculture.
If you have kids on the homestead, teaching them to be self-sufficent is also important. Here are 11 jobs for kid entrepreneurs!
BONUS IDEA:
Another way some homesteaders make money homesteading is by running an online blog and/or selling ebooks and courses so that they can help others learn the crafts of homesteading.
You can also "make" money by saving more money. Doing things like decreasing your chicken feed cost, building your own goat pens, and freezing food so it lasts longer, are all ways to keep money from going out and, in a sense, give yourself a raise.
If you are planning to use some of the ideas to make money homesteading or farming, make sure that you figure out your cost to make the product and then sell the product for more than it costs you. That way you are sure what your profit is.
For more information on how to make money homesteading and farming, check out the profitable homesteading worksheets we use to run our homestead like a business!