How to incubate chicken eggs is our current obsession! We are pretty obsessed with using our incubator to hatch chicks.  It is so exciting!  We were rather intimidated at first. We had no idea how to incubate chicken eggs.
It seemed so complicated with the humidity and the temperature, the candling and the turning.  So far, it really has not been too bad though (I suppose the real test is when we see what our hatch rate is….just 11 more days!).
We have already given a quick tutorial on How to Tell if an Egg is Fertile and also What You Need to Hatch Chicks, so today we are going to give a quick how to incubate chicken eggs with an incubator.
Once you know you have fertile eggs (or have purchased some hatching eggs) and you have gathered all of the things you need to hatch the eggs you can get started!
(Please note:  for specific humidity and temperatures you should follow the guide given for your incubator as these may vary based on type and model.  The estimates given here are for our incubators the Brinsea Eco 20.)
Here's how to incubate chicken eggs:
Gathering/Resting Eggs
If you buy hatching eggs and ship them, we recommend letting the eggs rest (large end up) for several hours so that the air cell can stabilize.  If you have saved your own eggs, they should also be stored large end up and turned at least twice each day until they are in the incubator.
For easy turning, we keep ours in a clean egg carton in a climate controlled room (where the temp stays over 50, but under 70) and we just put a paper towel roll under one end.  We switch sides twice a day.
Loading the Incubator
So, once your eggs are gathered and/or rested, you can get them in the incubator.  We let ours run for at least 24 hours prior to adding eggs so that the humidity and temperature are stable.
For our incubator, we run the humidity from 40 – 50 % from day 1 – 18 and the temperature around 99.6.  We use this hygrometer to gauge both temperature and humidity.
Turning the Eggs
You should turn the eggs a bare minimum of twice a day. We recommend doing it an odd number of times, so 3 or 5 so that they don't lay on one side all night every night.  You won't have to worry about the turning if you have an automatic incubator.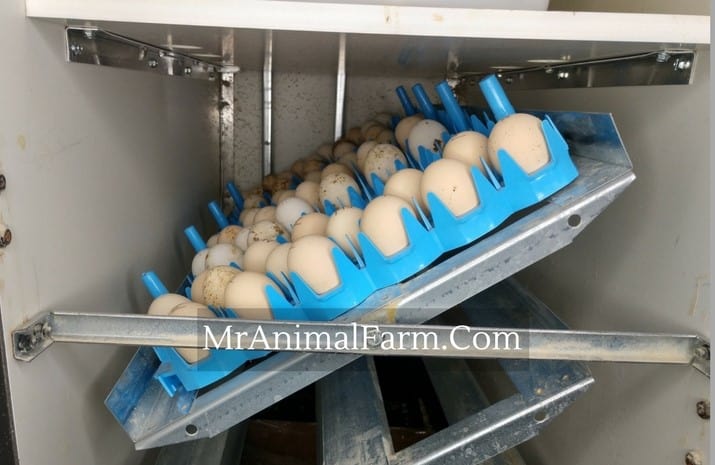 Candling the Eggs
Candle the eggs somewhere from day 7 – 10 and then again at day 18 right before you put them on lockdown (more on lockdown in step 5).  You can buy a candler or use a small flashlight.  You will want to be in a dark room and you can check each egg to see how/if it is developing.
Check out some example pictures of Egg Candling here.  For eggs that are not developing, have blood rings or other early death you will want to remove them so that they don't go bad and explode.
Lockdown and Hatching
On day 18, after candling, you will put your eggs on lockdown.  To do this, you will stop turning them and crank the humidity up. For our incubator, we turn it up to the 60% range.
You should start to see chicks hatching around day 21.  However, keep in mind that if your temperatures ran a little high they may hatch earlier.  If they ran a little low it may take a day or two longer.
Also, during lockdown (as hard as it may be), do NOT remove the chicks as they hatch.  You want to leave the chicks in and the incubator closed until all of the eggs have hatched.  Opening the incubator can cause the humidity to plummet, shrink wrapping the unhatched chicks into their eggs.
The chicks that hatch first will be fine without food and water for up to 48 hours.  They are still absorbing the nutrients from the yolk.

Here is how to set an incubator:
Now that you know how to incubate chicken eggs, are you planning to try to hatch your own chicks?  Let us know if you have any questions in the comments section!
For more on raising chickens