The Sultan Chicken is a gorgeous bird with a striking appearance that has attracted the eye of chicken enthusiasts for years. They are an excellent show breed of chicken, but they will take a bit of special care. If you are looking for a unique chicken for purposes other than eggs or meat, the Sultan Chicken may just be a perfect choice for your coop.
Sultan Chickens are easily recognizable due to the unique way that their feathers grow on their body. This oriental breed is mostly kept as pets or used in shows as they aren't great at providing eggs or meat.
This is also a breed that will require quite a bit of care to keep healthy, making them a bit more geared towards an owner who has experience taking care of chickens. This breed only lives between five to eight years and may not take well to certain climates.
Despite their shortcomings, they are a friendly breed that will be affectionate towards you and your family. They also have an interesting history and can be a pleasure to watch grow. Below we go over everything you need to know about bringing home your very own Sultan Chicken.
Sultan Chickens
Size
6 Pounds (Rooster)
4 Pounds (Hen)
Class
Duplex Comb
Color
Blue, Black, White
Temperament
Docile
Hardiness
Not Cold or Hot Hardy; Need Special Care
Eggs/Yr
50
Egg Size
Small
Egg Color
White
[ez-toc]
History & Origin
As their royal name suggests, these birds once entertained royalty and were kept as pets by Sultans. Their original name is "Serai-Tavuk" or "bird of the Sultan" and they could be found in palace gardens. While the breed did have its start in Turkey, they made their way into English-speaking countries in 1854.
They are an oriental breed the same as Phoenix chickens and Shamo Chickens are.
They became a part of shows in the west, where they are regularly seen competing against in large shows. Despite spreading into other countries, the breed is considered to be rare. They have also been placed under the "critical" section of the conservation status. This is due to the fact that these chickens aren't broody and are hard to keep healthy.
What do they look like?
Sultan Chickens are quite striking in appearance and one can easily identify them due to the unique way feathers grow on their bodies. To begin with, this breed of chicken has its legs covered in feathers right down to its feet, similar to Black Copper Marans. In fact, some Sultan chickens even have feathers covering a majority of the top part of their feet. These fluffy features stand for the rest of their body, too, as they have plumage covering them from head to toe.
The feathers on their head can even cover up their V-shaped combs and earlobes, hiding their bright red coloring. Reminiscent of Polish chickens, some even appear as though they are weaning a feathery hat on their head.
The Sultan's tails are made up of long feathers that are usually pointed upward. Uniquely enough, many Sultan chickens even boast a fifth toe, like Silkies, although this feature seems to be related to family genetics.
They have low-sitting wings, and the feathers on their bodies point backward. They come in three officially recognized colors; blue, white, and black. There is a Bantam version and other colors of the Sultan, but these colors are not recognized by the association.
Despite their unique appearance as adults, Sultan chicks actually look pretty normal and are easy to confuse with other breeds. When grown the Sultan rooster will weigh in at around 6 pounds while hens will weigh around 4 pounds. While they don't take up a lot of space, they will still need a roomy coop.
Need some help keeping your chickens health and care taken care of? Check out the Organized Chicken Keeper for an easy to follow system.
Temperament
The Sultan chicken is a sweet bird that is a perfect pick for a pet. They are known for their kind and affectionate nature, and, so when you introduce new chickens you are less likely to find them fighting with each other.. They have even been noted to be gentle with children, although you should still keep watch to prevent any accidents from happening as this is a brittle breed.
One thing you may notice from time to time is that your Sultan may be a bit jumpy. This is due to their thick plumage partially blocking their vision. Take care not to sneak up on this breed or make any loud noises that may alarm them. Even a loud dog may upset the Sultan, especially if it's their first time being around barking. Even when scared, they aren't likely to attack, but the negative stress can affect their health.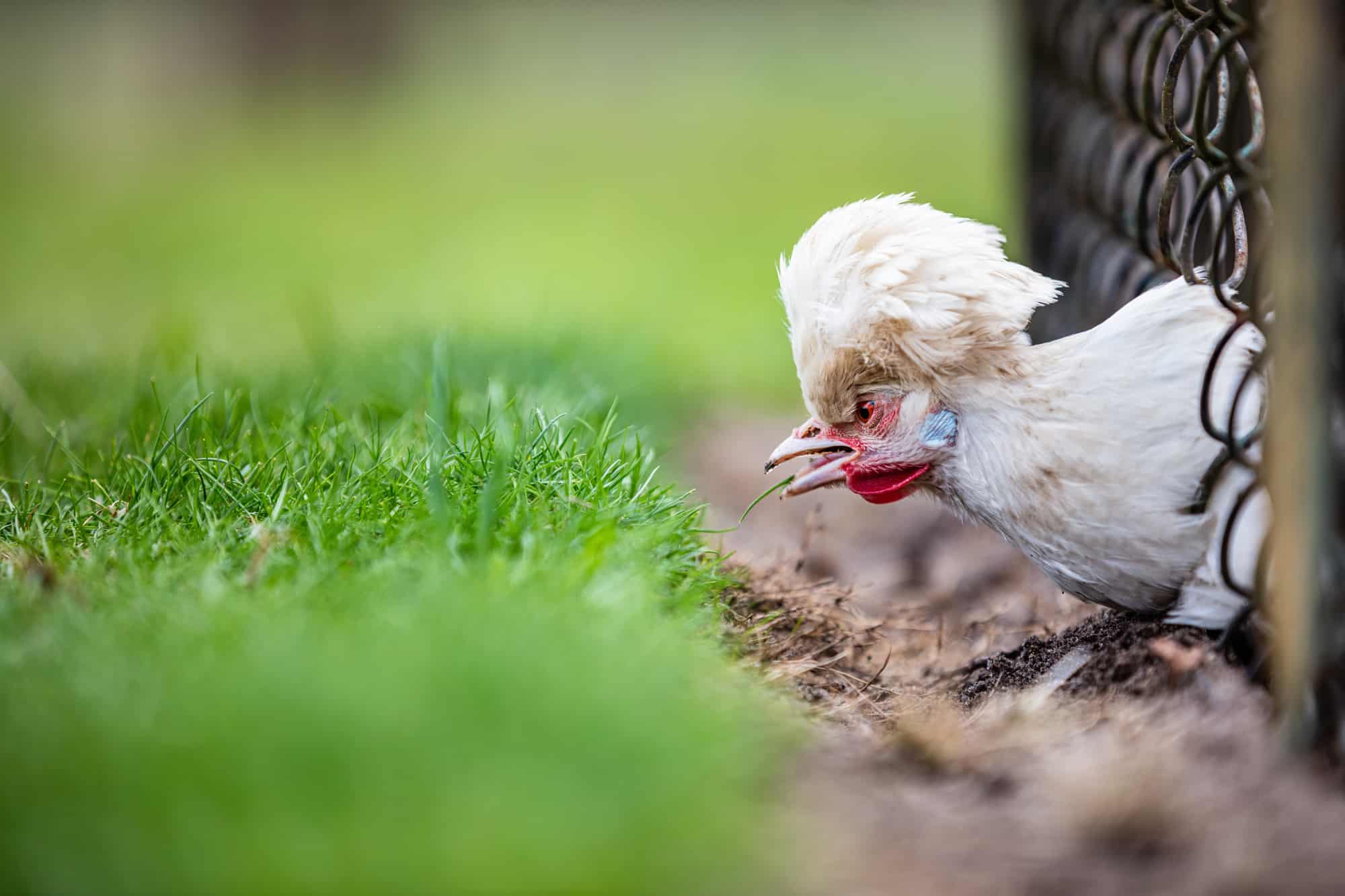 They love to talk, so prepare yourself to have daily conversations with your Sultan. You will also want to keep them away from aggressive breeds as they won't do well in a fight.
They do enjoy spending time outside and roaming, but they should have an enclosure, like a chicken tractor or predator-proof chicken run, where you can keep a watchful eye over them. While they will happily run up to you and interact with you when free roaming, they don't do well in most types of weather.
What is their purpose?
The Sultan chicken is definitely not a dual purpose chicken as it is an extremely poor food provider for several reasons. For starters, they take a lot of care that you wouldn't need to put into other breeds.
They do not lay often. In fact, if you know how often chickens lay eggs typically, this breed is way below that average. They lay an extremely low number of eggs, around 50 a year and since they aren't large birds they won't provide you with a substantial amount of meat.
They are primarily pet or show birds. Shows are where they really shine, and they can be a good choice if you are looking to compete in the competitive ring. You will want to be incredibly selective when finding a breeder for Sultan chickens as they are a rare breed, and the chicks may not have any extra features other than an extra toe.
Before buying a Sultan, check with reputable farms and breeders. You can also go to shows to try to meet Sultan owners who are also in the breeding business. This can be a great way to see the hen and rooster your chick will be coming from, and you will be able to ask questions about the breed.
In addition to all of this, you should note that they are hard to breed. The hens are not broody and are terrible at keeping watch over their eggs. If you do want to try and breed them, then keep in mind that you may need to learn how to help a chick hatch. You will need to have the best egg incubator on hand and be vigilant with gathering eggs. Keep in mind that this breed doesn't lay much, making the breeding process a bit frustrating.
Care and Health
Caring for the Sultan chicken is where complications can really set it with this breed. The Sultan chicken is not a hardy bird, and it can be hard to keep healthy. Depending on where you live in the world, this task can be incredibly hard as they aren't very tolerant of many weather conditions. You will want to have a proper-sized coop prepared and insulated to ensure that your Sultan is able to thrive. Due to their temperature sensitivity, some owners even decide to just let their Sultan live in their home.
The first thing that you will want to make a note of is just how much plumage this bird has. Due to their heavy feathering, they don't do well when they get wet or muddy. Their feathers will hang onto the mud, making walking around hard for them.
They don't do well when wet, so leaving them outside when there is a chance of rain is a no-go. If your Sultan does get muddy or wet, then you need to take care of them ASAP.
You will want to give them constant access to freshwater by choosing the best chicken waterer, but you should look into options that can keep them dry. Just leaving out a bowl of water will likely end in disaster for this breed.
You should make sure to properly measure out their food each day. Even if your Sultan does seem to be doing well when foraging, you should never assume they are finding enough food to meet their daily dietary needs. Though the cost to feed chickens on average may be higher than the cost for this breed due to their foraging.
If they are muddy, you will need to give them a safe bath and then dry them off thoroughly to avoid infections. Keeping chickens warm and dry is one of the best ways to ensure the health of the breed. You should be aware that being wet can stress the Sultan out, leading to further health problems.
These chickens are extremely sensitive to the cold, so their coop will need to be warm at all times. They should always remain inside in the winter and in a dry environment. If you live in an area that is constantly cold, then you may face even more issues keeping this breed healthy as they do enjoy going outside.
You will want to consider covering any run you make for them to ensure they don't get wet. In addition, leaving them in the heat for too long can give their feathers a brass color, which will lose you points in a show.
You will need to be extra cautious of predators around Sultans. Due to their thick plumage, they can't see well out of their eyes. You can fix this with regular trims, but they still have a much higher risk of being snuck upon. Even if they can see the predator, their chances are still low as they aren't fast.
If placing a Sultan in a mixed flock, closely watch to make sure there is no pecking. These birds are known for being pecked to death by other curious breeds. Finally, keep a watch if they have a fifth toe, as you will need to trim their nails from time to time.
FAQ
Are Sultan chickens rare?
Yes, they are hard to find and considered to be an endangered species. You will want to be careful when trying to find a breeder.
What are sultan chickens good for?
Sultan Chickens are great pets and show birds. They won't provide you with a good source of food.
How many eggs do sultan chickens lay?
You can expect for your Sultan to lay around 50 small eggs a year.
How much does a sultan chicken cost?
The average cost of a Sultan hen sits at around $8, while roosters will run you around $5. Which is about the average for how much chickens cost. Be careful when purchasing this breed, especially if you plan to use them for shows.
Are Sultan chickens broody?
Sultans are not broody, and breeding them can be pretty difficult. If you do plan to breed them, be ready to use an incubator to ensure the chicken's hatch. This is one of the many reasons they are rare.
Are Sultan chickens cold-hardy?
No, this chicken breed will die if left in the cold, and you will need to take special care of them in the winter. In addition, they will not do well in the rain, and leaving them soaked can lead to sickness.
If you need more help with taking care of your chickens, check out The Organized Chicken Keeper for a complete system for managing their health through keeping their supplies stocked and coop clean.