The Sussex Chicken is the perfect addition to just about any flock. They make great meat birds, lay a ton of eggs, or can be the friendliest backyard chicken friend you will ever meet.
Sussex Chickens are some of the more reliable layers around. They will give you several large, light brown eggs a week. Their size also makes them excellent protein sources for those who like to raise their own food.
The Sussex is very cold hardy but also fares well in warmer climates too. Which makes them an easy to care for chicken.
Lets take a deeper dive into some more of this breed's history, personality, and appearance.
Everything About The Sussex Chicken
Origin And History
The Sussex Chicken is one of the oldest breeds known today. It's first known place of origin was, appropriately, Sussex, England.
One of the first recorded instances of the Sussex Chicken was in 1845 at an exhibition for the London Zoo. It was billed as the "Old Sussex" or "Kent Fowl". It is likely that these birds were of the Speckled Sussex variety as it is believed to be the oldest of the initial recognized colors.
The breed standard was set in 1902 and consisted of the Light, Red, and, the previously mentioned, Speckled Sussex.
Appearance
The Sussex is a fairly large bird, with the roosters getting up to 9 lbs. They have a stocky build and look adorable as they waddle around foraging for food.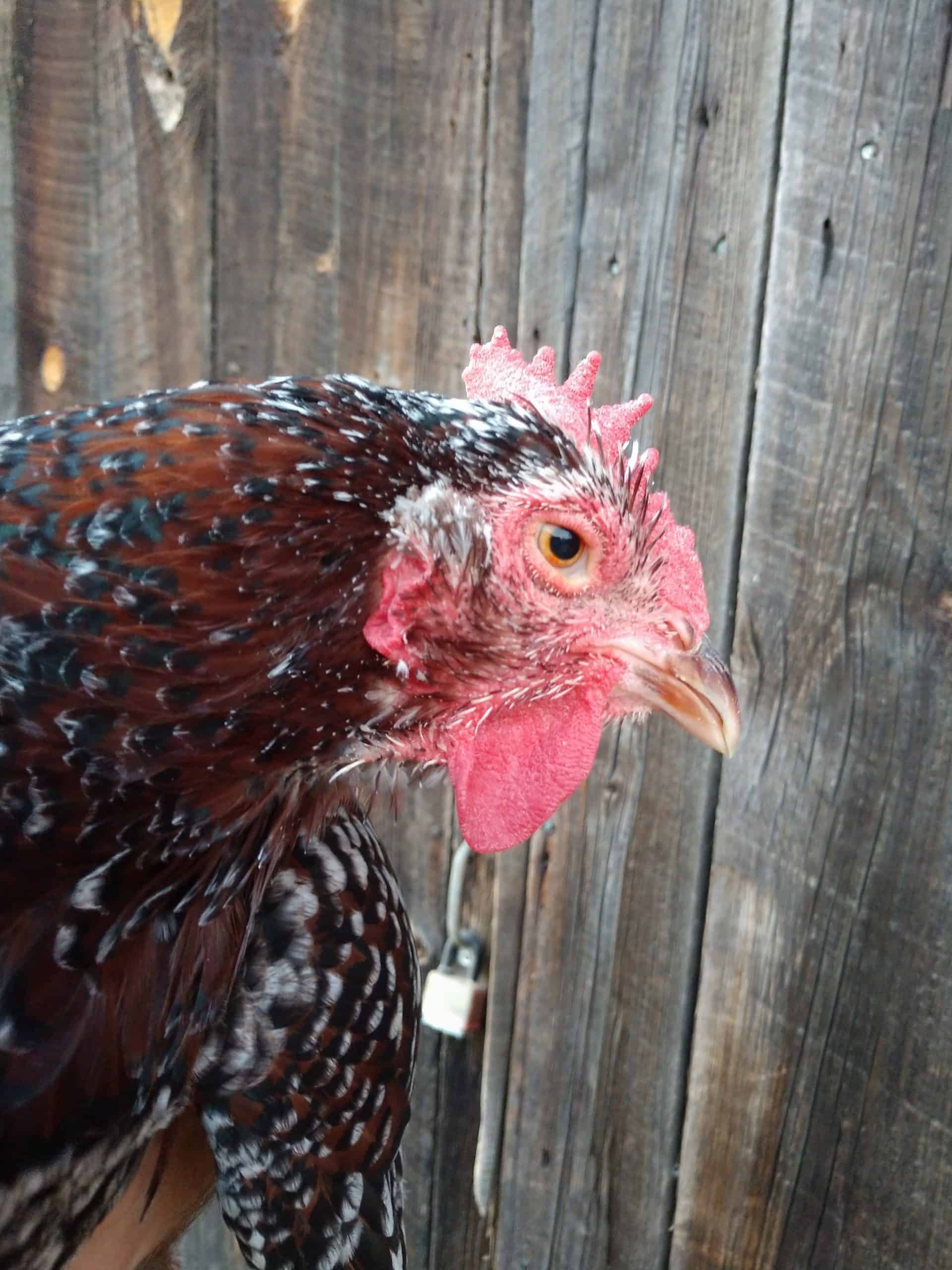 Color & Feathering
Sussex Chickens are officially recognized by two of the largest poultry organizations out there. Those organizations are the American Poultry Association (APA) and the Poultry Club of Great Britain.
The American Poultry Association only recognizes three colors while the Poultry club of Great Britain recognizes eight. Those recognized colors are:
American Poultry Association
Poultry Club of Great Britain
Brown
Buff
Coronation
Light
Red
Silver
Speckled
White
Size
The Sussex Chicken is considered to be a large breed. Both the hens and roosters of this breed can get pretty big.
Hens are generally smaller than roosters and that is no different here. However, a Sussex hen can still grow up to 7 lbs on their own! The Sussex rooster can get all the up to a whopping 9 lbs!
You can also find Bantam Sussex Chickens. You may already know that Bantams are typically about one third of the size of the standard breed. For example, a Bantam Sussex hen will weight somewhere around 2.5 lbs while a Bantam Sussex rooster may weigh around 3.3 lbs.
Comb and Wattles
The Sussex Chicken's comb is a bright red, single comb. They also have a small set of bright red wattles under their beak.
The comb and wattles of a chicken is one of the ways the bird is able to regulate it's own temperature. Similar to an elephant's tusks, blood circulates through them, is cooled or warmed and then recirculated back through the body. This keeps the chicken's core temperature at the desired level.
Miscellaneous
Other notable features of this breed are their bright red earlobes, white legs, white skin, and four toes.
When they were initially bred as table birds, they gained a good reputation as being very flavorful. Their light skin coloring and, oddly enough, number of toes, was a sign that they came from a well sourced flock.
Need some help keeping your chickens health and care taken care of? Check out the Organized Chicken Keeper for an easy to follow system.
What Are They Like?
One thing that is great about the Sussex Chicken is how docile and friendly they are. They are also a great bird for beginner's because of how low -maintenance they can be.
Temperament & Personality
We had a Speckled Sussex hen for almost 8 years. She was incredibly friendly and, honestly, one of the sweetest chickens we've ever had.
It is not uncommon for a Sussex to come out and meet you whenever you end up near their coop or wherever they happen to be foraging. Even the roosters are more gentle than other breeds of rooster.
If you have small children or are just getting the family into backyard chickens, the Sussex is an excellent choice. Since they are so docile, small kids will be safe around them as they do not mind being pet or even picked up. They are also low maintenance and will not give you very much trouble keeping them healthy.
Their docile and non-aggressive nature is not without it's drawbacks, unfortunately. Since they are so mellow, they often find themselves at the bottom of the pecking order. So, if they are paired with more aggressive birds, they will likely get picked on.
Foraging
Sussex Chickens LOVE to forage! They will spend all day in your backyard scratching around, eating any little bug, worms, grubs, and larvae they can find.
They are great at keeping annoying bugs under control, like ticks and other pests. If you have a garden, they will also help keep some of the more invasive bugs from destroying your crops. Just make sure they don't get a taste of the crops too!
Eggs
Sussex Chickens are very reliable egg layers. Their eggs tend to be on the larger side and a light tan or tinted color.
How often these chickens lay eggs will depend on their age and health. But at average age and good health, they will lay anywhere between three and five eggs per week for you.
Cold Hardy or Heat Hardy
These chickens are survivors. They are able to live in both hot and cold environments. If you live in a particularly warm climate, they will do fine as long as they have some sort of shade or shelter from the heat.
Those that live in colder climates will see them do just fine. So long as they have ready access to a warm, dry, well ventilated coop, nutritional feed, and clean water, you should see no ill effects during the Winter months.
What Is Their Purpose?
Introducing new chickens to your existing flock is often done for a specific reason. You may want a steady stream of farm fresh eggs. Perhaps, you may want to try out growing your own meat sources. You may just want your own little backyard buddy.
When a chicken has more than one viable market purpose, we call them dual purpose chickens. All that means is that they can be used for both egg production and/or as table birds.
Around here, we call them tri-purpose. Since they are so friendly, they can also be considered pets. Although we don't really advocate that you eat your pet, so maybe they are still just dual purpose.
Pets
As we mentioned earlier, these chickens are incredibly docile, friendly, and curious. They have never met a stranger and love to be cuddled. Their easy going, mellow personality is a perfect fit for both new chicken farmers as well as seasoned veterans of the craft.
Eggs
The Sussex Chicken is a very productive egg layer. As we mentioned, they will reliably lay large, tinted or light brown eggs.
Your average hen will lay anywhere from 180 to 200 eggs a year. However, there are some hybrid strains that have reported up to 320 eggs in a year! That's an egg almost every day of the week.
Meat
Sussex Chickens get pretty big. If you are raising and hatching your own chicks, you now have something to do with all of those roosters! In fact, during the time or World War II the Sussex and the Rhode Island Red were the primary meat birds in the United Kingdom.
The Sussex Rooster can get up to 9 lbs. That's about ¾ the size of your average Thanksgiving turkey. Even the hens are large enough for a decent meal too. If you retire them once they are no longer laying, a 7 lb hen can make a good stewing hen.
Since they grow so large and are quite the productive layers, Sussex Chickens make great dual purpose chickens.
Common Questions
We cam across some of these questions while researching for this article.
Are Sussex chickens good layers/Do Sussex chickens lay eggs/How many eggs does a Sussex chicken lay?
Yes. Sussex Chickens, when in good health, are reliable egg layers. You can expect anywhere from 200 to 320 eggs per year.
Do Sussex chickens go broody?
Yes. Typically, when the season turns warmer, some varieties of Sussex will go broody.
How big do Sussex chickens get?
Sussex are considered a large breed chicken. The hens can get up to 7 lbs while the roosters get all the way up to 9 lbs.
They can also be a Bantam breed with the hens weighing around 2.5 lbs and the roos around 3.3.
What age do Sussex chickens start laying?
Like most breeds of chickens, they will start laying between 18 and 20 weeks of age.
Are Sussex chickens aggressive?
Not at all. They are very friendly and docile. This is both a blessing and a curse as they are very often at the low end of a flock's pecking order.
Are Sussex chickens noisy?
Not particularly. Due to their docile nature, the Sussex Chicken is relatively quiet.
How long do Sussex chickens live?
A healthy and well protected Sussex can live anywhere between 5 and 8 years. This is about how long most chicken live.
Can Sussex chickens fly?
Most chickens are able to get off the ground for short spans. Sussex chickens tend to be on the heavier side of poultry and are not very prone to flying.
Are Sussex chickens cold hardy?
Absolutely! Their large size keeps them well insulated during the cold weather. They are very cold hardy.
What are Sussex chickens used for?
Sussex Chickens are what is known as a dual purpose chicken. That means they are able to be used as meat birds as well as for the high egg production.
Is Speckled Sussex rare?
The Standard size is not particularly rare. However, the Bantam Speckled Sussex is very rare.
Conclusion
If you've made it this far you know how great a bird the Sussex Chicken can be!
They are very productive layers. They can be excellent food sources. Or they make perfectly nice feathered companions.
If you want to start a flock or add some new chickens to your current one, you can't go wrong with the Sussex Chicken.
If you need more help with taking care of your chickens, check out The Organized Chicken Keeper for a complete system for managing their health through keeping their supplies stocked and coop clean.