This site contains affiliate links. We may earn a commission if you purchase from one of these links. Learn more Here.
If you have your own chicken flock, or maybe you're just starting to raise baby chicks, you may start asking yourself "how long do chickens live?"  After all, you will want to be prepared for how long you will have your chickens, right?
When we started thinking about getting chickens, one of the first questions that we had was "how long do chickens live?".  We wanted to know how long we might have our first chickens as well as how often we may need to replenish our layer flock.
So, how long do chickens live?
First, let's just talk the simple, easy answer.  In general, it is accepted that the life cycle of a chicken is an average of 8 year.
So, that's all, right? – 8 years is your answer.
Not, so fast.
Other factors to consider
First, although the life cycle of a chicken may average 8 years – that is just how long they can live in general.  Most chickens these days, especially ones in backyard flocks probably live much shorter lives. Why?
Predators
Well, predators are a really big issue for chickens.  I can't tell you how many times we get messages from people who have purchased silkies or pullets asking if we have more available because something got their birds.
General health
Another factor is their care.  There are a lot of people jumping into backyard chickens.  Which is great – they can experience fresh eggs (which are SO good), as well as have some adorable pets.
However, most backyard flock enthusiasts aren't going to run their chickens to the vet (like they might their dog) if they get sick.  And the fact is, chickens can be fragile at times. 
Baby chicks need certain care.  Adult chickens can get all sorts of things like Marek's or respiratory diseases – sometimes simply from wild birds flying through.
That's not to say that raising chickens is SUPER hard, it really isn't that bad 😉  However, when issues do arise, the likelihood that chickens are getting top notch medical care is just not realistic.
So, clearly, health and medical care will play a large role in the answer to the question how long do chickens live.
Housing and supplies
Having a clean and secure chicken coop is essential to keeping your chickens healthy and safe. If you make sure their hatch door is secured and the windows are AT LEAST doubled covered with chicken wire, it will go a long way to keep them safe from nocturnal predators.
Another way to keep them healthy is to make sure they have a dedicated feeder, which you can buy or build yourself, high quality food, and the best chicken waterer you can get.
Does Breed Type Affect how long they can live?
Yes!  Chicken breed definitely can play a large role in how long a chicken will live.
Meat breeds
For example, just out of purpose, most meat breeds, such as Cornish Cross and Jersey Giant, are not going to live very long.  Not only are they butchered young, but most are bred to grow very quickly.  This fast growth often times can cause significant health issues if they are alive much after butchering age.
How Long do chickens live before slaughter? Most meat breeds of chicken live to about 2 or 3 months before they are butchered when being raised for meat.  Raising meat chickens can be a lot different experience than raising birds for egg production.
High egg production breeds
Also, there are production breeds, like sex link and leghorns.  These breeds, sort of like meat breeds, are bred to have large eggs and to produce like gangbusters quickly. 
This means they start laying early and lay super often (5 – 7 times a week usually).  So, how long chickens lay eggs can affect their overall lifespan.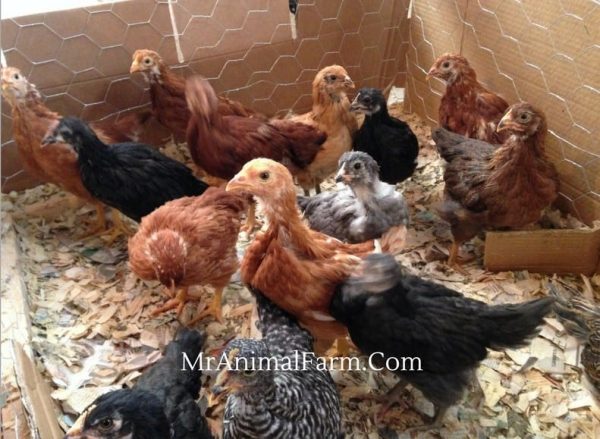 This constant egg laying can ultimately take a toll on their overall health and potentially cause health issues.  Which can cause them to have a shorter life span.
Heritage breeds
Many heritage breeds can have longer life spans. Many are dual purpose chickens. That means they are bred to be decent egg layers but can also be raised for meat.
Since they aren't bred for high production of either there is less of a pull on their body's resources. Therefore they can live longer. Some more well known heritage breeds are Rhode Island Reds, Black Australorp, and Barred Rock.
How long do bantam chickens live?
Bantam chickens should have the capability to have the same lifespan as other chickens of their same breed.  However, being a bantam means being smaller and this can make them more susceptible to getting taken by predators.
As you can see, a chicken's life span really can vary.  On average, as we have reviewed, it's about 8 years.
However, that answer is not really the end all, be all as there are a lot of other factors that will be at play.  Particularly, breed, medical care, health, and potential predators.
In our flock, we do have a few girls who have reached the 8 year age range now and still seem to be clucking along just fine 🙂  However, unfortunately, it is more common to lose some chickens earlier in life due to predators and other issues.
So, when you are thinking about getting chickens, it's probably best to assume that 8 or so years is about how long they'll live – that way you are prepared to have and take care of your chickens for their entire lives if they make it to a ripe old age. 
However, be prepared, that is can be normal to lose chickens at a younger age when all of the life variables are taken into account.
For More on Chickens: