So, you're sure that you have a hen (and not a rooster). You know if chickens can lay eggs without a rooster. And now you want to know when do chickens start laying eggs?
Now you are waiting (and waiting) for her to lay her first egg. You won't know for sure that she is laying until, well, you see her first egg.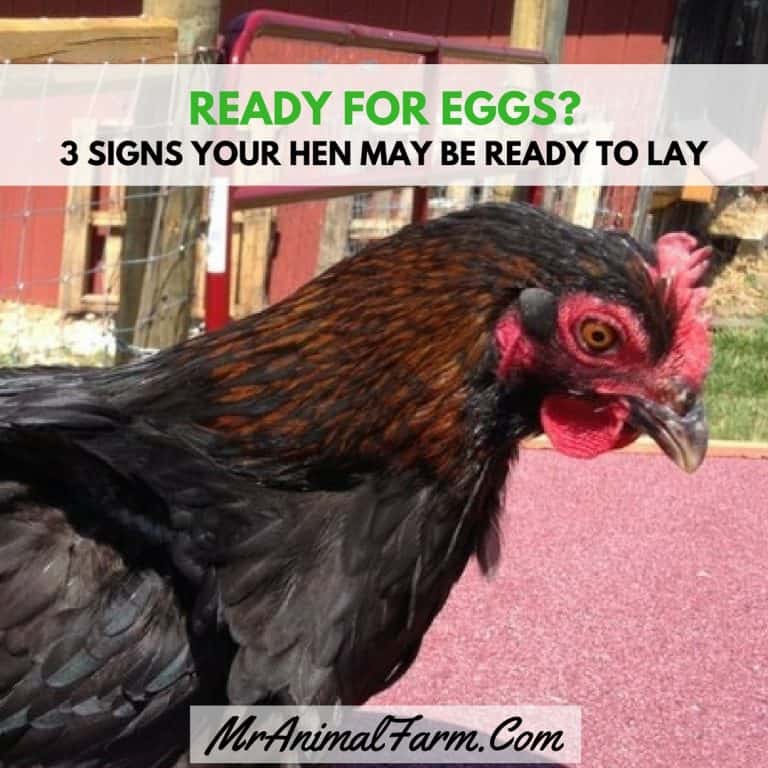 However, there are a few signs you can look for in case you're wondering when do chickens start laying eggs.
When asking when do chickens start to lay, you should make sure she has the right things to keep her happy and healthy.

Once your hen is ready to lay, you will want to make sure that you are feeding a layer feed (which has more calcium in it) rather than a starter or grower feed.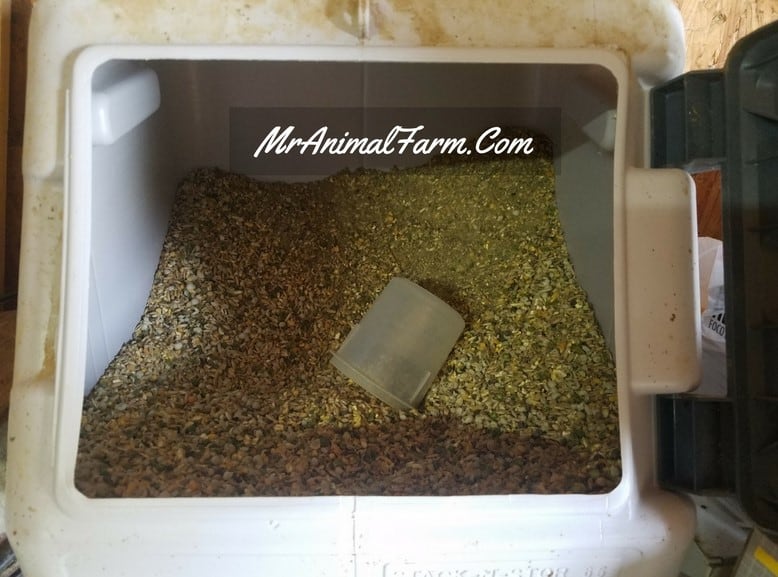 The additional calcium in the layer feed will ensure that your hen is able to properly form solid egg shells.)
If you do not provide your hen that is starting to lay with the proper nutrition, you may end up with soft shelled eggs (which can break easily) or even eggs without a shell at all!
Another thing you will want to ensure that you provide your hen that is ready to lay is a safe, cozy nesting box area as well as some wooden or fake eggs.
We use these fake eggs. They help your hen to know where to go when she is ready to lay 🙂
Additionally, you should know that when your hen starts to lay their highest volume of eggs will come from laying age to around 2 – 3 years old. During this time, if you have several hens laying eggs you may want to think about how to freeze eggs so that they don't go bad.

Ok, now that you know how to be prepared for you hen to start laying.
When do Chickens Start to Lay Eggs?
Here are the top 3 signs your hen is ready to lay:
1) How long until chickens lay eggs?
We include age here, but really this can be a pretty big range among different chicken breeds. That being said, if you know the specific breed of your chicken, age can be a helpful indicator on when your hen will be ready to lay her first egg.
Sex links may start laying relatively young (around 16 – 18 weeks). However, other breeds such as Silkies can take up to a year.
There are also, of course, some breeds who fall into the middle range like Easter Eggers. Easter Eggers tend to start to lay in the 20 – 25 week age range.
Not sure if you have an Easter Egger? Here you can find out some attributes of Easter Eggers.
So, while you can't use one single age across the board, if you know the norms for your particular breed it can certainly help you get a good ballpark on what age do chickens start laying eggs.

2) Comb/Wattles
Although a hen will not get a huge comb and wattles like a rooster, she will get bigger, redder ones right before she starts laying.
Often times, a hen will not really have much of anything in the way of comb/wattles when she is a young pullet. These will be extremely pale pink.
However, as your hen gets close to being ready to lay, her comb and wattles will get significantly larger and turn a deep red.
3) Squatting
A hen who is close to point of lay will start "squatting" behavior. Squatting is pretty much what it sounds like, the hen will hunker down sort of spreading her wings a bit.
Often times you can trigger her to do so by putting your hand out over her. Hens do this to get in "position" for a rooster. That means they won't start squatting until they are close to maturity (egg laying age).

Not sure if you'll be able to spot these signs that your hen is ready to lay? Check out our video below to see the signs in action!
Now that you know the answer to: When Do Chickens Start to Lay Eggs? You may also be interested in knowing:
If your chicken is still laying? Here are a few signs. Or How Often Do Chickens Lay Eggs – there are several factors.
For More on Chickens, Check These Out: