If you are raising baby chicks you will, at some point, have to deal with pasty butt in chickens at some point. While pasty butt can be gross, it can be easy to treat.
What is Pasty Butt in Chickens & What Causes it?
Pasty butt is basically a build up of poop on the chicks rear end. It is usually near or covering it's vent. This can become a serious issue if it is not taken care.
It can build up, block the vent opening and prevent the chick from relieving itself. If left unattended, it can kill the chick.
However, with a few minutes of your time pasty butt can be taken care of. Often times temperature changes can cause it, so make sure to keep your brooder temperature correct.
Temperatures should start at 95 degrees and decrease 5 degrees per week. Also watch chick behavior to see if they are panting and spread out (too hot) or inactive and piled on top of one another (too cold).

How to Treat Pasty Butt:
Treatment is really simple. We use a paper towel wet with warm water (using cold water may chill the chick and cause more pasty butt later).
1. Get a grip
First things first, you'll need to get a good grip on the chick with one hand. Hold it securely as it will feel a little uncomfortable during the process (I mean, wouldn't you?)
Do this with one hand because you will need the other hand free for cleaning.
2. Time for the pre-soak
Kinda like doing laundry only crappier (see what I did there?) Gently wipe and drip the warm water and paper towel onto it's rear end to loosen up the built up poop.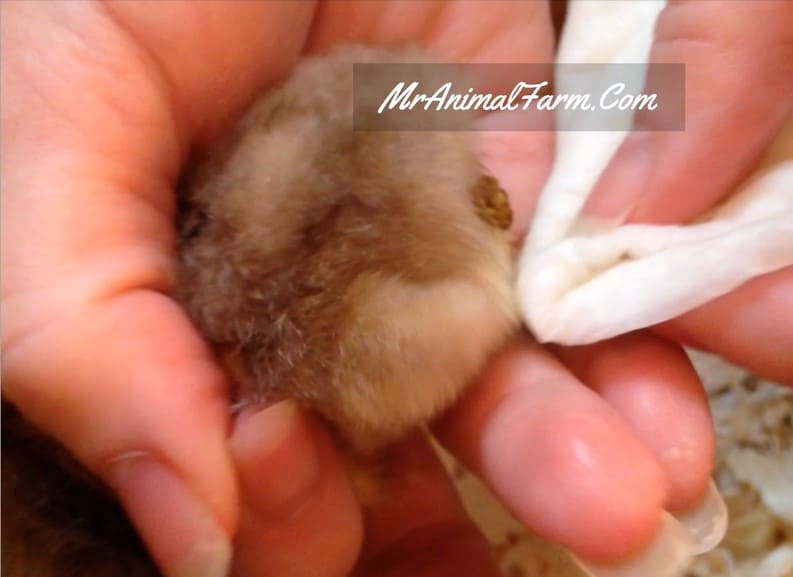 You can also try to soak the water directly into the dried poop.
3. Wax on, Wax off
Let the water sit for a moment to really break down the poop. After a minute or so, the poop will loosen up and wipe off.
4. Deep cleaning
If it is really bad and dried, you may need to try and loosen it up some with the paper towel between your fingers.
However, make sure not to pull too much as you can pull out their down and/or rip their thin skin. This part can be a little tedious, but your little chick will be super thankful later when they still have a fluffy butt.
5. Clean up
Generally, we will just clear their vent area and leave some of the poop on if they have a lot of build up. The reason for this is because we don't want them to catch a chill and get more pasty butt later.
We try to interfere as little as possible to let these things work themselves out on their own. But when that isn't an option, we step in to lend a helping hand.
You will want to check the chicks at least a few times a day (more often if possible) to make sure they don't get more pasty butt built up. We find that it usually takes a few days for the pasty butt to clear up.
If chicks have pasty butt, you can also add some vitamins and electrolytes and/or probiotics to their water to help them stay happy and healthy.
Interested in how to treat other chick issues like curled toes? Check out this raising chickens eBook or this raising chickens eCourse!
Want to see how the pasty butt for chickens treatment in action?
Check out our YouTube video below (and don't forget to subscribe!)
Want to Know More About Chickens? Check These Out: